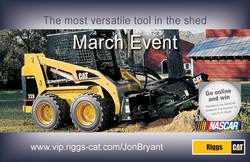 Getting Personal: Direct Marketing Practices that Deliver
Indianapolis, IN (PRWEB) September 21, 2008
The United States Postal Service and Kodak have produced a new video entitled "Getting Personal: Direct Marketing Practices that Deliver" which features Caterpillar and the VDP Complete 1:1 cross media marketing system. The free video features both tutorials on the basics of variable data marketing and case studies that describe real campaigns.
A copy of the video is available on request from JFM Concepts or can be viewed on line. View Video.
According to JFM Concepts Principal James Michelson, who appears in both the instructional and case study sections of the video, "The recent release of this tutorial shows how cross media and variable data have become critical components of the marketing mix. What was, until recently, an arcane process can now be executed by any size firm, at a very low price point, and with amazing results."
Although the printing technology has been available for almost a decade, a marketing program to provide companies the support they needed to execute complex variable data campaigns was lacking. VDP Complete® is a turn key marketing system that includes two powerful applications - VDP Mail® and VDP Web®. VDP Complete clears the most difficult hurdles of executing variable data marketing programs. The fundamental difference between this system and other products available on the market is that JFM Concepts handles all aspects of a marketing campaign for one all-inclusive price. Initial analysis, list acquisition, mail and web design, hosting, opt-in marketing, and detailed reporting through an online interface are all part of the package. They do not refer clients to third party providers, executing the entire process from start to finish. The system is ideal for both small businesses and larger companies where sales and marketing departments simply do not have the time to manage another process.
VDP Web, the back end support of VDP Complete, provides the ability to capture "soft leads" from web visits using personal urls or "purls." Detailed reporting tools capture the identity of web visitors even if they do not call or submit their information. Robust functionality eases the process of opt-in marketing by using pre-populated forms. This allows customers to opt-in without typing their information resulting in increased response rates and fewer errors. VDP Web can be executed as a stand alone product to add unique URL's, personalized web pages and opt-in marketing to any program, printed or electronic.
About JFM Concepts
JFM Concepts, the leading experts in 1:1 cross media variable data marketing and providers of the turn key VDP Complete® marketing system is a full service direct marketing firm that provides all the components of highly successful direct marketing campaigns. In-house experts and carefully vetted partners execute all aspects of the campaign including real time personalization, concept, copy, design, art, web development, printing, mailing and reporting.
About James Michelson
James D. Michelson is an honor graduate of the George Washington University and a former Naval Officer with more than 15 years of executive marketing and sales experience. Upon leaving active duty, he earned a Masters degree in Business Administration from Jacksonville University. James has held key sales and marketing positions at the executive level for both Fortune 15 and small firms in a variety of industries. His extensive experience in developing sales and marketing campaigns for companies both with and without direct sales forces has produced explosive and profitable growth. James is also an adjunct professor of business, teaching students how to create world class marketing and sales campaigns in both theoretical and practical ways.
###