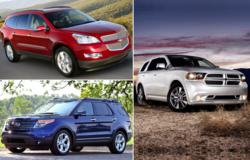 A crossover comparison that takes the guess work out of determining the best overall value in family transporation today.
Torrance, CA (PRWEB) February 16, 2012
In a recent comparison test—Chevrolet Traverse vs. Dodge Durango vs. Ford Explorer—published by autoMedia.com, a trusted source of automotive reviews and advice, editors assessed the driving character, engine performance, and interior space and amenities of America's three third-row midsize crossover SUV vehicles, with V6 powertrains and all-wheel drive, to determine the best overall value.
According to autoMedia, rising fuel costs are prompting a shift in what American families choose for transportation, completely rethinking the family vehicle. The crossover-utility vehicle (CUV) class is the fastest growing automotive segment, and combines the room of a sport-utility vehicle (SUV) with the ride and fuel economy of a car. autoMedia's been tracking the changes to the SUV market and the evolution of crossover vehicle since the 1990s. Until the Ford Explorer and Dodge Durango were released, the Chevrolet Traverse was the leader in driving dynamics.
Today, according to autoMedia's findings, recommendations can be found for all three: All are similarly priced, starting between $28-29,000, but unique options on each can bring that up to around $48,000. When it comes to fuel economy, the Ford Explorer was the winner, though not by much, with 17 mpg city and 25 mpg highway. As for interior appointments, Dodge and Ford distanced themselves from the Chevy even in terms of quality. All three will power through the rain and snow, but the Dodge and especially the Explorer have the best off-road capability. Dodge was a clear choice for its rich interior amenities and loads of standard equipment, Ford Explorer for its better fuel economy, and the Chevy Traverse for more space and seating capacity.
Final standings: Dodge Durango, Ford Explorer, Chevrolet Traverse. Consumers can find the detailed report—Chevrolet Traverse vs. Dodge Durango vs. Ford Explorer—online at autoMedia.com under the DriveSmart section.
About autoMedia.com: The auto website was launched in September 2000 by a team of automotive editorial, design, and publishing professionals, with the goal to be the premier provider of quality automotive content on and for the Web. Today it features over 92,500 pages of original articles, including over 2,500 features researched and written by leading automotive experts, covering new and used car buying, new vehicle previews, road test reviews, car care maintenance, professional driving advice, and technology. Automotive enthusiasts and new car shoppers can read about the latest industry news, pricing, rebates and incentives, view photo galleries and research details on all makes and models. For more information visit autoMedia.com.
###