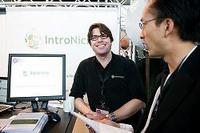 We will focus on two matters over the next months. One is to listen to our clients, take their comments on board and build a better platform. Second is to build more traffic for the site by working on search engine optimisation...and cross-promotion deals...
Brussels, Belgium (PRWEB) May 9, 2008
IntroNiche.com, a new platform to make cross-promotion marketing easier for start-ups, freelancers & small businesses is now up and running. The first tests confirm the viability of the cross-promotion concept. The founder will now have to use all the skills learned as an eBay executive to further develop the platform.
What is cross-promotion marketing?
Cross-promotion marketing occurs when non-competing companies who target similar niche markets agree that they would both see benefits if they pooled marketing resources or promoted one another.
(Synonyms: co-operative-marketing, cross-marketing, joint venture-marketing, marketing cooperation, marketing partnerships, co-marketing or barter marketing.)
Example One: Two non-competing websites realise that they both target the market of young, English-speaking fashion addicts. Website A specialises in discussing footwear & shoes. Website B specialises in discussing watches. By exchanging advertising on each other's sites, each website can capitalise on the other's marketing channel. This is cross-promotion.
Example 2: A wireless application start-up & a job portal for IT specialists make a deal. Everybody who updates his CV on the job portal may use the new wireless application for a month free of charge. The job portal has a tool to help increase CV registrations and the wireless application start-up has increased visibility in its target market. In the end, both parties are better off. Cross-promotion, again.
Three advantages of cross-promotion:
1. Credibility. You're referred by somebody else.
2. Reduced marketing costs. Most deals are barter.
3. Direct entry into a specific niche market.
How does the IntroNiche.com online marketing platform help?
IntroNiche.com helps you to find cross-promotion partners. It functions like a basic classifieds platform, allowing companies and individuals to define their profile and what they could offer for cross-promotion. Advertisers can be contacted by interested members with an exchange proposal. All deals are negotiated and concluded offline, directly between the two companies.
As such, IntroNiche would be the Craigslist for cross-promotion.
By using IntroNiche.com, companies spend less time actively searching for other companies with whom they can cross promote. The IntroNiche.com website will be a gathering point for like minded companies who are open for cross-promotion deals.
IntroNiche.com up and running for a month.
Sam Desimpel, the site's founder testifies:
"We first tested whether entrepreneurs are really willing to find cross-promotion partners on the internet. The first cross-promotion classifieds are now online and demonstrate that willingness. It's possible to already spot some trends. Our members are interested in doing cross-promotions deals world-wide or are interested in working at a really local level. Next to that, it seems American companies are taking the lead, even though we also see French, German and many other nationalities using the platform. You could say we're not hitting huge numbers but I've already found some really nice cross-promotion gems. I'm currently executing some cross-promotion deals with some other companies targeting the small business niche."
He added: "We will focus on two matters over the next months. One is to listen to our clients, take their comments on board and build a better platform. Second is to build more traffic for the site by working on search engine optimisation...and cross-promotion deals..."
"I try to stick to the best learnings you get working at eBay: listen to your community to improve your service and hit critical mass as fast as you can. Don't wait until you've got a perfect product to launch. Launch fast, listen and improve."
Corporate information:

IntroNiche.com is a five-month old company based in Brussels, Belgium.
Sam, the founder of IntroNiche.com, was part of the three man team which started eBay.be five years ago. When working as community & category manager, Sam spent a lot of time working on cross-promotion deals. As such, he had always wished there was a platform dedicated to cross-promotion. This is where the idea had its nascence.
The company is self funded. IntroNiche.com will start as a free platform. IntroNiche.com intends to ask a minimal fixed fee per classifieds ad once critical mass is reached.
The website currently only exists in English but is open for the whole world.
The platform is made in drupal and currently in a free beta period.
More information about IntroNiche
More information:
Company with a similar idea: http://www.spottt.com
IntroNiche.com however is a classifieds website open to all marketing formats. Spottt is an automatic website link exchange. So really, we're not competitors. We could even cross promote.
Cross-promotion information site: http://www.mesh-box.com
Easily the most comprehensive data archive of co-operative marketing efforts, mostly done by the big brands of this world
Questions?
Sam Desimpel
IntroNiche.com
IntroNiche bvba
Avenue Louise 475,
B-1000 Brussels, Belgium Mob: 32 488.464.393
Skype: sam.IntroNiche.com
Email: sam @ IntroNiche.com
###