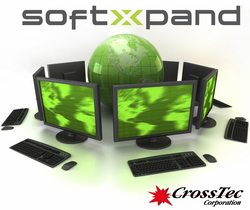 SoftXpand is a natural choice for any organization striving to make a significant impact on cost savings, operational savings, and carbon footprint.
Boca Raton, FL (PRWEB) October 19, 2010
MiniFrame and CrossTec Corporation announced today the signing of a strategic sales agreement appointing CrossTec Corporation as MiniFrame's North American distribution partner for the award winning desktop virtualization product SoftXpand.
SoftXpand, this year's winner of the Frost & Sullivan European Desktop Virtualization Product Innovation Green Excellence Award and the Red Herring Global 100 Award, helps organizations reduce up front PC purchase costs, reduce operating costs, total cost of ownership, and decrease their carbon footprint.
MiniFrame's innovative SoftXpand software enables creation of multiple workstations on Windows-based machines. The software converts a single desktop PC into a system capable of supporting up to 8 workstations simultaneously - each with their own desktop, monitor, keyboard, and mouse. Since SoftXpand is not based on thin client technology, it delivers high-performance video options to each workstation. Video support is provided by installing additional video cards into the PC or by connecting low-cost Plug and Play display adapters via USB or LAN.
"Over the last 14 years, CrossTec has achieved significant penetration in both education and enterprise, two markets that are both serious about reducing costs and their green commitments," said David Richards, President of CrossTec Corporation. "SoftXpand is a natural choice for any organization striving to make a significant impact on cost savings, operational savings, and carbon footprint. In addition, the product is a great fit for CrossTec. Support for SoftXpand is already included in our flagship SchoolVue classroom management product and we expect a high level of interest from our installed base, channel partners, and from the market as a whole."
MiniFrame's Marketing and Sales VP, Emmanuel Boutboul commented: "CrossTec has a large experience of marketing software solutions and we have a strong belief that MiniFrame's partnership with CrossTec will increase SoftXpand presence in the US market. SoftXpand, the best desktop virtualization software on the market, perfectly fits into CrossTec's product portfolio and we are confident to expect a significant growth in the US market."
Organizations implementing SoftXpand when purchasing new computers can reduce new hardware costs by as much as 80% while reducing manpower costs, energy costs, and green usage by as much as 75%. In addition, SoftXpand's flexible software approach gives organizations the ability to repurpose and multiply existing computers which is invaluable in tight budget situations.
SoftXpand is currently in use in thousands of organizations worldwide, and has immense potential to become a leading desktop virtualization solution on the market owing to its "green" credentials and cost effectiveness. The solution is ideal for applications in a variety of industries including education, call centers, manufacturing companies, small and medium-sized businesses (SMBs), financial institutions, government organizations, hotels, and Internet cafes.
For more information on SoftXpand in North America visit crosstecsoftware.com.
CrossTec Corporation will be hosting a complimentary webinar on November 17th, 2010 on education technology which includes desktop virtualization, classroom management, interactive whiteboards, and more. To register for the webinar, please go to: gotomeeting.com/register/853083472
In North America, free 30-day evaluations of SoftXpand product can be downloaded on CrossTec's Download Page, or call (800)675-0729 to speak with an account manager.
About MiniFrame Ltd.
MiniFrame is a leading player in the software desktop virtualization market. The company develops and markets its SoftXpand desktop virtualization software technology and product suites that address various vertical markets, while providing smooth migration from any computing environment to a complete "Cloud Computing" solution. SoftXpand software drastically reduces the amount of hardware required, resulting in significant reductions in Total Cost of Ownership, and is recognized by industry experts as the ultimate green IT solution. MiniFrame has distribution partners spanning 4 continents, and is continuously seeking to expand its international distribution network. For partnership inquiries visit miniframe.com or contact MiniFrame by email: sales (at) miniframe (dot) com.
About CrossTec Corporation
CrossTec Corporation, headquartered in Boca Raton, FL, has been a leading provider of software solutions that simplify network and classroom management since 1996. CrossTec's mission is to empower IT managers by offering a combination of enterprise-tested products, substantial feature sets, superior value, and unparalleled customer service. CrossTec Remote Control is a proven solution for any environment, physical or virtual. For more information on CrossTec Corporation or the CrossTec family of products, please visit CrossTecSoftware.com. CrossTec has distribution partners across North America. If you are interested in finding out how your organization can become part of CrossTec's distribution network, please contact info (at) crosstecsoftware (dot) com
Media Contact MiniFrame Ltd.:
Michaela Komblis
MiniFrame Ltd.
Tel.: +972 9 8355200
Email: michaelak(at)miniframe(dot)com
Media Contact CrossTec:
Michael Beverly
CrossTec Corporation
Tel.: +1-616-855-1825
Email: mbeverly(at)crosstecsoftware(dot)com
###