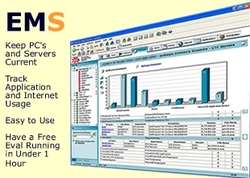 We've seen that PC's and monitors account for up to 39% of information and telecommunication industry emissions
Boca Raton, FL (PRWEB) April 14, 2010
CrossTec Corporation announces today that they are committed to being a part of the green revolution and encourage companies to explore the advantages of leveraging their EMS asset management solution. A leading feature of EMS is the energy monitoring tool which allows organizations to explore cost savings while reducing their carbon footprint.
"We've seen that PC's and monitors account for up to 39% of information and telecommunication industry emissions," says David Richards, CEO of CrossTec Corporation. "With CrossTec EMS, companies across all industries can address both the enormous cost of energy usage as well as costs across the enterprise by leveraging the leading desktop management features of EMS."
Some of the many other features of CrossTec EMS include:

Real time alerts on specific events, providing valuable warnings of potential issues.
Centralized software distribution.
Complete hardware and software inventory.
Easy tracking of software licenses and expirations.
Detection of prohibited software in the network.
Software usage statistics, essential for budgeting and planning.
Detailed summary of Internet and Intranet user activity.
Comprehensive reports on hardware, software inventory and license compliance.
Detailed inventory and user history showing changes over time for all assets.
EMS is an easily deployed, cost-effective solution that simplifies and centralizes asset management, remote control and helpdesk. Key features such as remote office management and energy monitoring make it even more adaptable to the most complex environments. In addition, its modular framework enables administrators to purchase only those components they need."
"The ability to efficiently manage all facets of IT assets, including energy, has a direct correlation on an organization's overall operational efficiently—not to mention its bottom line," continues David. "We are committed to helping reduce the carbon footprint of organizations while saving them money."
CrossTec will be exhibiting at the AIIM International Exposition + Conference on April 20-22nd located at the Pennsylvania Convention Center in Philadelphia, PA. They will also be hosting a complimentary webinar on April 28th to go over some of the advantages companies can endure through leveraging their EMS solution. To register for the webinar please go to: http://www.crosstecsoftware.com/redirect/emswebinar042810.html
Free 30-day evaluations of CrossTec EMS v3.0 and CrossTec Secure can be downloaded at http://www.crosstecsoftware.com/tryit.html, or call (800) 675-0729 to speak with an account manager.
About CrossTec Corporation:
CrossTec Corporation, founded in 1996 and based in Boca Raton, FL, is a leading provider of software solutions that simplify network and classroom management. CrossTec's mission is to empower IT managers by offering a combination of enterprise-tested products, substantial feature sets, superior value, and unparalleled customer service. For more information on CrossTec Corporation or the CrossTec family of products, please visit http://www.CrossTecSoftware.com.
For editorial information, contact:
Michael Beverly
Marketing & Advertising Manager
CrossTec Corporation
616-855-1825
http://www.crosstecsoftware.com
###