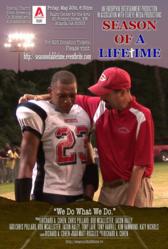 Film director/producer Rick Cohen stated "I am so proud of what our production team has accomplished over the past eleven months," adding "this inspirational movie transcends all boundaries and hits every demographic.
Irving, TX (PRWEB) April 28, 2011
Endorphin Entertainment, FishEye Media Productions and Crossvale partner to document onscreen and online the inspirational story of Greenville High School football coach Jeremy Williams as he courageously battles Amyotrophic Lateral Sclerosis, ALS, or also known as Lou Gehrig's disease. "Season of a Lifetime, The Jeremy Williams Story" is a poignant chronicle of the struggles of an ailing coach who refuses to allow a debilitating and incurable disease to stop him – nor his family or his team. Cameras follow Coach Williams as he leads his Patriots' team and the entire community to victory for this final season of a lifetime.
After many hours of editing "real" time, Endorphin Entertainment and FishEye Media proudly announce the "Season of a Lifetime" documentary film will preview on Friday, May 20 at Georgia State's Rialto Theatre in downtown Atlanta. Doors open at 6:30 p.m. for a tailgate reception, co-hosted by Pig-n-Chik BBQ and benefiting the ALS Association. Attendees will include Coach Williams, his family, friends, the players of the Greenville Patriots' football team and the Greenville High School band. The special event preview screening begins at 8:00 p.m. Event tickets are required and can be purchased at seasonofalifetime.eventbrite.com/.
Film director/producer Rick Cohen stated "I am so proud of what our production team has accomplished over the past eleven months," adding "this inspirational movie transcends all boundaries and hits every demographic." Cohen's hope is for this film to change the way we look at our own lives and ultimately, to help find a cure for ALS.
Coach Williams is a living legend. His life and accomplishments are highlighted online at the seasonofalifetime.tv website, developed and hosted by Crossvale. Crossvale President Jason Sharp acknowledged "the website has taken on a life of its own and to be a part of Jeremy Williams' story is an honor and a privilege."
To make a donation to the ALS Association or to purchase event tickets to the film screening, visit EventBrite. For up-to-date information and to follow the film, go to seasonofalifetime.tv, twitter.com/seasonlifetime or friend us on Facebook under "Season of a Lifetime" documentary.
About Crossvale
Crossvale is a professional services firm, singularly focused on helping clients maximize the performance of their people, processes and technologies. Since its founding in 2001, the Company has served customers in over 40 states and 20 countries. Crossvale partners with its clients in the Human Resources, Banking and Government markets to align best practices with technology in order to deliver on promised results. The Company builds tailored integration, automation and portal solutions on Oracle, Software AG, enterprise JAVA / PHP, and Drupal platforms. These solutions are delivered as cloud-based, SaaS applications and customer-premise turnkey systems. Crossvale is a GSA IT Schedule 70 Vendor.
About Endorphin Entertainment
Endorphin Entertainment is a video production company that specializes in documentary style filmmaking within the sports genre. Its 2009 film, Faded Glory took home five audience awards on the film festival tour. Faded Glory received both a domestic distribution deal from NEHST Studios and an international distribution deal from Forward Entertainment in 2010. Second film, "And the Lord Said...Smack 'em in the Mouth!" was shown on PBS between the Georgia High School Football championship games and is currently playing in the "shorts" category in film festivals around the country.
About FishEye Media Productions
FishEye Media Productions is one of the event industry's finest full service event production companies. With a strong foundation of excellent communication, sharp problem solving skills, astounding creative abilities, and wholesale costs, our team invites you to enjoy what we call the "FishEye Experience," which means a true partnership focused on adding value to your event, video, or marketing efforts. At FishEye Media Productions, our top priority is YOU and ensuring your message is creative, coherent, captivating and well received by the intended audience.
# # #