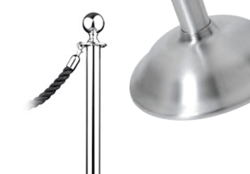 If your place of business experiences an influx of customers throughout the day, you simply must implement crowd control systems. Our clients report staggering increases in both operational efficiency and customer satisfaction[...]
Rockville, Maryland (PRWEB) October 05, 2011
Maryland-based Eagle Mat and Floor Products excitedly announces the launch of an all-new Crowd Control online store this September. The expansion comes just in time for the hustle and bustle of the holiday shopping season, giving small business merchants and large scale retailers alike a one-stop shop for all of their queue management needs.
The rich collection of stanchions, ropes, and Tensabarrier retractable belt systems is shaping up to be one of the most comprehensive collections of crowd control and signage products available online. The collection, along with a guaranteed lowest price promotion, has Eaglemat.com poised to become a premier outlet for not only commercial floor mats, but for a diverse array of property management and building solutions products.
Crowd management systems help organizations better serve customers. Simple yet effective, these systems create lanes that organize customers and increase the efficiency with which they are served. Businesses have much to gain from intelligent crowd control implementation, including increases in operational efficiency, customer satisfaction, and revenue. Crowd control retailers have seen a spike in demand for these systems in the fall and winter months, as organizations gear up to provide superior quality of service to customers throughout the busy holiday shopping season.
"We are very excited to offer crowd control stanchions, ropes, and retractable belt systems on Eaglemat.com," remarks Eagle Mat CIO Jon Blumberg. "This is a very competitive time of year for many businesses. Customer loyalty is paramount, and effective crowd control management is a perfect way to allow the customer to feel comfortable in their surrounding while being efficient with their time."
Among the most effective ways to implement crowd control systems is through the creation of a single-lane queue. Single lane queues are created by arranging two parallel lines of stanchion posts with ropes—or alternatively, stanchions with retractable belts—that lead to a specific service area. Service areas may include cashier windows, door entrances, front desks, or other areas that help customers inquire about products and services. Signage may be used to highlight the entrance and front-end of the queue to further expedite the flow of customers.
"If your place of business experiences an influx of customers throughout the day, you simply must implement crowd control systems," states Blumberg. "Our clients report staggering increases in both operational efficiency and customer satisfaction, which in turn drive revenue."
The style with which a business may create their crowd management queues is limited only by their own creativity. Post and rope systems are ideal for those businesses desiring a more traditional crowd control look, as seen at cinemas, theatres, and other high-end venues. By contrast, businesses may choose retractable belt systems for a more modern look that is flexible in application; very popular in banks and airports, these retractable belt systems may also be wall-mounted to save floor space without compromising queue management goals.
Regardless of style, one thing is certain: the options are nearly limitless. Eaglemat.com boasts one of the Web's largest and most comprehensive collections of posts, ropes, and retractable belt systems. Businesses are free to fully customize their orders from the ground up, choosing from several unique stanchion bases, dozens of vibrant color finishes, rope styles, and more.
"Customization is key," Blumberg explains. "Each business has unique goals, and we want visitors to be able to build their crowd management systems from scratch if they so desire. To that end, we offer the option to have logos, slogans, or personalized messages printed on retractable belts. The end product is very sharp."
Crowd control products on Eaglemat.com are backed by a 100% Price Match Guarantee. Businesses are encouraged to visit the comprehensive online store to begin building crowd control systems that are tailored to individual needs and unique aesthetic tastes. Eagle Mat and Floor Products proudly represents the finest in floor mats, floor coverings, and facility management products. The company is actively involved in the sale and rental of only the finest quality products that help businesses deliver outstanding services to clients, patrons, and employees. For more information on Eagle Mat products, services, and Price Match Guarantee terms and conditions, please visit Eagelmat.com!
###