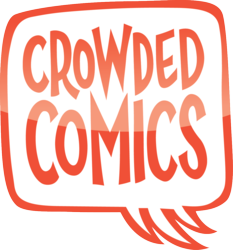 Crowded Comics lets readers have fun with the news -- one punch line at a time.
New York, NY (PRWEB) October 03, 2012
Crowded Comics, Inc. announces its official launch today, releasing features on CrowdedComics.com that include original cartoons and caption contests to engage readers in current events and to enable them to share their jokes and opinions. The Crowded Comics launch, particularly of the satirical Commander-in-Briefs game, is perfectly timed to correspond with the start of the debate season for the 2012 Presidential election.
Crowded Comics lets readers have fun with the news -- one punch line at a time. The startup company creates comics and games in response to trending headlines and empowers users to add their jokes and opinions. Crowded Comics is democratizing news and editorial cartoons by crowdsourcing captions and opinions for original, timely comics in response to trending headlines. With unique technology and open-ended content, Crowded Comics is making news and editorial cartoons more engaging, interactive, and democratic.
Crowded Comics professional cartoonists produce the art, but everyone has a voice: by sharing poignant, insightful, and funny captions, customizing cartoons, and voting for and commenting on the submissions of other users.
Although caption contests are not new, Crowded Comics is unique in applying this model to editorial cartoons about trending news. "We're putting the power of satirical public opinion into the hands of the people," said David Burnett, co-founder and CEO of Crowded Comics. "Our partner newspapers and news sites feature our professional cartoons with captions from their own readers, thereby increasing reader interaction with local jokes and opinions."
As part of this launch, Crowded Comics is rolling out several new features and partner offerings:

"People spend hours captioning pictures of cats and Internet memes, and we wanted to redirect that energy towards current events, politics, and the election," said Mr. Burnett. "We want people to have fun with the news, but we also want to provide a new outlet where everyone can share their opinions. By creating Crowded Comics, we also wanted to create a new type of content that helps news providers interact with their readers."
"Crowded Comics has helped us engage readers in new ways," said Inez Russell Gomez, the Editorial Page Editor for The Santa Fe New Mexican. "We use Crowded Comics on our site and print some of the cartoons with local reader captions in our Opinion section. We have readers who are very active and caption every single cartoon on a daily basis."
With today's official launch, Crowded Comics' cartoons, caption contests, and the Commander-in-Briefs game are now publicly available for users to enjoy at CrowdedComics.com. Newspapers and news sites interested in partnering with Crowded Comics can find more information at crowdedcomics.com/partners.
About Crowded Comics:
Crowded Comics (http://www.crowdedcomics.com) is a New York startup company that creates comics and games in response to trending headlines to engage readers and help them have fun with the news. Crowded Comics was founded by strategist David Burnett, technologist Oleg Terenchuk, and award-winning cartoonist Kevin Cannon. The startup was launched in restricted beta in February 2012. Crowded Comics was selected to participate as one of eight News startups at the SXSW Accelerator in Austin, TX in March 2012. Since then Crowded Comics has piloted and released features for the Crowded Comics widget, localized syndication, the Crowded Comics store, and the Commander-in-Briefs game. To learn more about Crowded Comics, visit crowdedcomics.com/about.
Contact Information:
David Burnett, Co-Founder and CEO
Crowded Comics, Inc.
CrowdedComics.com
E-mail: david(at)crowdedcomics(dot)com
Phone: 917-830-4320
Skype: davidcburnett
Twitter: @crowdedcomics