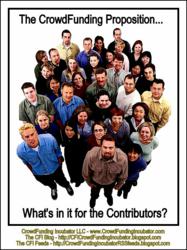 Westchester, NY (PRWEB) December 25, 2012
Douglas E. Castle, the Chief Executive Officer of CrowdFunding Incubator LLC ("CFI"), predicts a substantial shakeup in the crowdfunding industry in 2013. The disruption will begin where both project promoters and contributors, who have been only remotely involved with the projects which they have helped finance, are going to ask some tough questions of platform providers and project sponsors. Then, there will begin a purge of this largely unmonitored industry coupled by a flight to quality, in terms of crowdfunding site operators, project promoters, and benefits to more equitably match their contributions.
"Most contributors participate in a project because they are excited by the concept, or because they are impassioned by the underlying idea or project mission. It's very much like entering into a club based upon a common cause and an assumption of trust," said Castle.
"In many cases the extra enticement includes some special benefits secondarily offered by project sponsors such as discount coupons, prepaid orders for prototypes, beta test opportunities, a dinner with the founders; generally speaking, something of value which may or may not actually be realized. The crowdfunding model to date has been based mostly upon the thrill, the gamble, the feeling of belonging and the hope, of course, that the project will succeed.
"Now that crowdfunding platforms have been alive for several business cycles with plenty of projects funded, contributors are going to want to start seeing results. They are going to want to see, at minimum, that their funds weren't wasted or misappropriated, and that the ideas in which they chose to participate are taking some shape...making some progress. Naturally, they would also like for the project promoters to keep in touch with them, to have them incorporated in the news loop," Castle added. "There's a potential for some backlash against the crowdfunding sites and against the project promoters if the contributors feel that they have been orphaned.
CFI's website, which is expected to go live in January, is based on a more rigorous screening of prospective projects and their promoters than is generally performed by the other players, and upon the significance of the founding role, both at the first funding, and as the projects move forward, played by the contributors. You can view CFI's LinkedIn Corporate Summary at http://www.linkedin.com/company/crowdfunding-incubator. One of CrowdFunding Incubator's criteria for acceptance of a project is that the contributors are given something of significant value for their initial vote of faith and confidence, and that the project sponsors maintain a high level of accountability and ongoing, high-touch contact with all of their benefactors, regardless of their contribution level.
"In the coming year, many crowdfunding bets are going to be coming home to roost. Some projects will have evaporated, while others will have made admirable progress. But regardless, 2013 is going to be the year when the contributors want to hear word back from their hatch-lings. The biggest mistake that the promoters of any project could make is to be either dishonest or to appear ungrateful. Everyone understands that in business, there is an element of risk - but contributors, especially after being socked with their holiday credit card and installment payment bills, are going to want to get some kind of accounting, as well as some kind of acknowledgement that they are still members of the clubs that they opted into last year or earlier."
The principals at CrowdFunding Incubator are anticipating 2013 to be a year of reckoning, and believe that any successful future crowdfunding models will have to take project quality, integrity, accountability of the promoters, and communications between recipients and providers of funds very seriously. CFI stands ready for the anticipated flight to quality and to embrace a new standard of professionalism, by legitimate project hopefuls, as well as by prospective contributors.