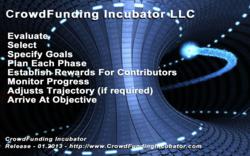 Westchester, NY (PRWEB) December 18, 2012
Douglas E. Castle, the Chief Executive Officer of CrowdFunding Incubator LLC ("CFI"), announced this morning that CrowdFunding Incubator's revolutionary new website will be launched within the next four weeks. The site combines a highly-interactive mobile-friendly crowdfunding platform with a full range of entrepreneurial, incubator, accelerator, mentoring, marketing and management services, as well as a comprehensive roster of reference resources.
The site will be the first to offer project sponsors the ability to submit projects directly from their mobile devices and for interested contributors to issue payments directly through their smart phones and tablets as well as through their notebooks and PCs.
"We realized early on that most start-ups, early-stage entrepreneurial enterprises, small and minority-owned businesses, as well as humanitarian and charitable projects need a great deal more assistance and guidance than just access to public funds in order to significantly increase their prospects of success in attaining their objectives. CFI is very much aware that contributors have to be given genuine value in exchange for their financial vote of confidence in these projects, and that we have a responsibility to them, as well as to the sponsors, to evaluate projects in terms of their merits, plans and rewards to contributors.
"Crowdfunding has become too much of a free-for-all and there is a notable lack of initial project assessment, business support services and financial responsibility on the part of the operators of these amateur sites. Ultimately, there are going to be too many project failures; this will lead to a backlash on the part of the contributors and the donors against the promoters of these sites and the managers or would-be visionaries involved in posting their projects to those websites," Castle said.
During its pre-launch phase, CrowdFunding Incubator is entertaining a limited number of project proposals through a streamlined initial form which can be accessed at http://bit.ly/CFIsubmit. To learn a bit more about the company prior to the full public website release, you may see a video at http://youtu.be/o4E070HswwU.
# # #
For further information about CrowdFunding Incubator LLC: You can visit the company's LinkedIn page at http://www.linkedin.com/company/crowdfunding-incubator.