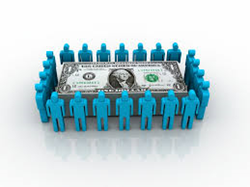 We expect to see strong interest from our self-directed IRA and Solo 401(k) plan clients looking to explore the benefits of crowdfunding investments, however, the potential application of UBTI tax regime makes it potentially tax inefficient for some
New York, NY (PRWEB) November 03, 2015
IRA Financial Group, the leading provider of self-directed IRA LLC & Solo 401(k) plan solutions, expects to see strong demand from its over 12,000 self-directed and Solo 401(k) plan clients looking to take advantage of the new SEC crowdfunding rules. Crowdfunding is an evolving method of raising capital that has been used to raise funds through the Internet for a variety of projects. Title III of the JOBS Act created a federal exemption under the securities laws so that this type of funding method can be used to offer and sell securities.
Before the new rules, private companies could seek money only from "accredited investors." That's defined as individuals who own more than $1 million in assets, excluding their primary residence, or have maintained an income of more than $200,000 for at least two years.
Under the new rules, those with more modest wealth will be able to invest in startups, with limits. People with annual income or net worth less than $100,000 will be allowed to invest a maximum of 5 percent of their yearly income or net worth, or $2,000 if that is greater. Those with higher incomes can invest up to 10 percent. An individual can't invest a total of more than $100,000 in all crowdfunding offerings during a 12-month period. Investors generally couldn't resell their crowdfunding securities for one year. The SEC also specified that crowdfunding must go through an intermediary, either a broker-dealer or a registered funding portal. Offerings need to be checked by outside accountants, and, in some cases, fully audited.
According to Adam Bergman, a partner with the IRA Financial Group, while crowdfunding offers one the ability to make high risk high-reward investments, it also presents the potential risk of fraud as well and tax liability for retirement account investors.
The Unrelated Business Taxable Income rules, also known as UBIT or UBTI, is a tax imposed on tax-exempts, such as retirement accounts, that generate income from the following sources:

Income from the operations of an active trade or business – i.e. a restaurant, gas station, store, etc., made via a passthrough entity, such as a limited liability company ("LLC") or partnership
Using a nonrecourse loan to purchase a property
Using margin on a stock purchase
The UBTI tax rates follow the trust income tax rates and for 2015 can go as high as 39.6%. "Therefore, if a retirement account wishes to make an investment in a start-up or investment fund, which are often set-up as a LLC, the income generated by the investment could trigger the UBTI tax and impose a potentially high tax rate on the income generated by the retirement account, greatly impacting the financial viability of the transaction," Stated Mr. Bergman.
"We expect to see strong interest from our self-directed IRA and Solo 401(k) plan clients looking to explore the benefits of self-directed IRA crowdfunding investments, however, the potential application of UBTI tax regime makes it potentially tax inefficient for some," Stated Mr. Bergman.
IRA Financial Group is the market's leading "checkbook control Self Directed IRA and Solo 401(k) Plan provider. IRA Financial Group has helped thousands of clients take back control over their retirement funds while gaining the ability to invest in almost any type of investment, including real estate without custodian consent.
To learn more about the IRA Financial Group please visit our website at http://www.irafinancialgroup.com or call 800-472-0646.