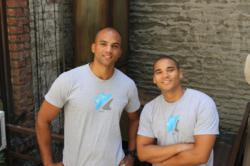 We are the only investment based solution in the market Pre-JOBs Act
New York, NY (PRWEB) September 18, 2012
The team at Bolstr launched the first investment-based crowdfunding platform for main street small businesses at Finovate – "a two-day showcase of the best new innovations in financial and banking technology." Bolstr takes a local approach to crowdfunding, empowering communities to invest in and support the small businesses around them.
Access to capital for main street small businesses has long been an uphill battle. Small Business Loans and Home Equity Lines are challenging to get, and Credit Cards are expensive alternatives. It is clear that small businesses, the engine of our nation's economy, need an alternative source of capital to jumpstart growth.
Bolstr founders Charlie Tribbett and Larry Baker, both former New York City investment bankers, are excited about democratizing access to capital through their new and innovative small business capital marketplace, which they say is driven by transparency, near term liquidity for investors, and a hyper local approach.
"We're thrilled to have launched at Finovate to showcase our innovative solution that helps main street small businesses crowdfund investment capital from local investors in their community. We are the only investment based solution in the market Pre-JOBs Act and our hyper local approach to crowdfunding brings a new dynamic that enables capital access for small businesses," Tribbett said.
The Bolstr team is focused on democratizing access to capital by allowing small businesses to seamlessly source investments from local investors in their community, and leverage this powerful investor base for word of mouth marketing and support.
"At the end of the day, Bolstr helps main street small businesses build a network of supporters in their community who are invested in their success. Our revenue sharing agreement allows them to maintain 100% ownership in their business, and to reward their investors with near term payouts based upon the sales performance of their business," Baker said.
To participate on Bolstr businesses must be incorporated and have at least two years of financial history. For more information or to apply to use the platform please visit http://www.bolstr.com or email info(at)bolstr(dot)com.
###
About Bolstr:
Bolstr is a crowdfunding platform that empowers communities to invest in local small businesses. We believe that local investment is the key to economic growth. Through Bolstr, we have created a marketplace where individuals can invest in and support the local small businesses that make their communities home.
Through step-by-step guidance, Bolstr helps Small Businesses create a professional pitch, determine fair deal terms, and source investment capital from their network and community. In essence, Bolstr's innovative platform democratizes and demystifies the process of raising investment capital.