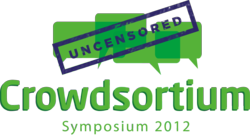 "Crowdsortium thanks everyone who attended, making it one of the best industry events to date." - Alex Torrengra, CEO VoiceBunny
Boulder, Colo. (PRWEB) September 24, 2012
Thought-leaders, VC's, researchers, and executives all gathered to discuss best practices and the evolution of crowdsourcing applications. The Symposium featured Jeff Ma, CEO of tenXer as the keynote speaker and over twenty of the leading figures in the crowdsourcing space as panelists.
Crowdsortium gives special thanks to Marquee Sponsors which includes: CrowdFlower, leading provider of enterprise crowdsourcing solutions; Trada, crowdsourced paid search experts; CrowdConf, largest crowdsourcing conference. Thanks as well to Silver Sponsors: CrowdSource, managed crowdsourcing solutions; Fiverr, marketplace for small services; and Cooley, leading law firm in areas such as technology and crowdsourcing.
"It's impressive to see how much the crowdsourcing industry has evolved in only one year. Last year was about the potential of the business model. As our businesses have all matured, we now know we have something solid to build on and the discussion focused on lessons learned and future growth. Scars were shown and the war stories behind them were told. At the Symposium we found the intersection between transparency and learning," said Niel Robertson, CEO of Trada, and co-founder of Crowdsortium.
"Crowdsortium Symposium was by far the most useful crowdsourcing event we've ever attended. It was amazing to be able to learn from the titans and pioneers of the crowdsourcing industry in such a welcoming and honest arena. Kudos to Brittany and team for an awesome event!" said Alex Torrenegra, CEO of VoiceBunny
Crowdsortium thanks everyone who attended, making it one of the best industry events to date. For more details about Crowdsortium Symposium: Uncensored including agenda and a speaker's list visit the Crowdsortium website. For any inquires about involvement in next year's Symposium, other Crowdsortium events, or membership, please contact Brittany Lincoln at crowdsortium(at)gmail(dot)com.
About Crowdsortium
The Crowdsortium is a group of crowdsourcing industry practitioners that have self- organized to advance the crowdsourcing industry through best practices, education, data collection and public dialog. Crowdsortium currently has 150 companies, with 250 members consisting of practitioners, academics, funders, and customers. For more information, visit crowdsortium.org.