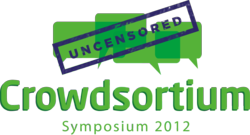 "The Crowdsortium Symposium has become a unique industry insiders conference where the real state of what is working and what is not with crowdsourcing is shared." Niel Robertson
Boulder, CO (PRWEB) August 07, 2012
Crowdsortium, the industry group for crowdsourcing companies, will hold its annual Crowdsortium Symposium on September 13 in Palo Alto, California. Crowdsortium is pleased to announce sponsor Cooley will host the event. The Symposium is a members-only event and will feature in-depth and transparent conversations from leaders in the industry. Crowdsortium Symposium attendees will participate in conversations that look at the tough, honest, and rewarding sides of crowdsourcing: the uncensored side.
"The Crowdsortium Symposium has become a unique industry insiders conference where the real state of what is working and what is not with crowdsourcing is shared," said Niel Robertson, CEO of Trada and co-founder Crowdsortium. "We are excited to take this concept even further this year with a closed-door session of the absolute pioneers and leaders in the crowdsourcing space."
Crowdsortium holds a unique position as a self-funded group, thus allowing them to hold a closed-door event. There will be no press or blogging; all information is privileged. Over twenty of the leading minds in crowdsourcing will be sharing their insights in ten panels, fireside chats, and working sessions. Confirmed speakers include: Fabio Rosati CEO of Elance, Gary Swart CEO of oDesk, David Alan Grier, Panos Ipeiroti, Lukas Biewald CEO of CrowdFlower, Niel Robertson CEO of Trada, Sharon Chiarella VP of Amazon.
This will be an opportunity for newer companies to learn from businesses that have paved the road in this new innovative field. For companies with numerous years of experiences the Symposium will explore new avenues for growth. Last year the Symposium was a ground breaking event; Crowdsortium intends to repeat this success by gathering the leading minds in crowdsourcing.
The Symposium is for members only. If you are a crowdsoucing company, VC, or researcher and not a member, but would like to attend you can find membership information on the Crowdsortium website.
Limited tickets are available, first come first serve. Tickets are available on the website with a membership purchase. All Premium Corporate, Standard Corporate, and Associate Members get one free ticket to the Symposium with membership.
About Crowdsortium
The Crowdsortium is a group of crowdsourcing industry practitioners that have self- organized to advance the crowdsourcing industry through best practices, education, data collection and public dialog. Crowdsortium currently has 150 companies, with 250 members consisting of practitioners, academics, funders, and customers. For more information, visit crowdsortium.org.