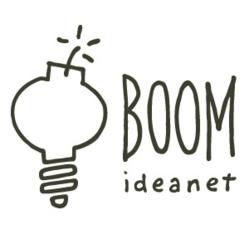 "With the explosion of screen time, businesses and marketers need more creative assets than ever. They are looking for ways to access more ideas and to make budgets go further. Freelance creators want the opportunities along with equitable compensation.
Kansas City, MO (PRWEB) May 21, 2013
Boom Ideanet, LLC is an online creative platform that is redefining crowdsourcing. The creative idea network is populated with vetted problem-solvers who sign a non-disclosure agreement to protect the clients' confidentiality. Just as importantly, it preserves the freelancers' intellectual property until purchased. The new approach also redefines compensation structures so more freelancers earn payment at a more equitable rate than other crowdsourcing sites.
"Our model is working because we are addressing the needs not just of brands, but also of creative thinkers," said Steve Wood, Managing Director of Boom Ideanet, LLC. "With the explosion of screen time, businesses and marketers need more creative assets than ever. They are looking for ways to access more ideas and to make budgets go further. Individual freelancers want the opportunities. But they also want to be treated equitably. Our ethical crowdsourcing model achieves that balance."
Crowdsourcing is not only becoming part of the conversation, it's becoming an accepted business practice. Multiple platforms are now available for logo design, slogan generation, and even advertising. Many crowdsourcing sites offer cost-savings to marketers, but often at the expense of the freelancers who enter ideas. In most examples, only one freelancer is awarded. Boom Ideanet is changing that dynamic.
"We're assembling a disciplined network that offers a mix of stability and fresh participation. While most sites depend in effect, on a churn model, Boom Ideanet seeks to keep talented freelancers engaged, rewarded, and to attract new creative freelance thinkers," states Wood.
In many crowdsourcing models, the freelancers relinquish their intellectual property upon submission. With Boom Ideanet, the freelancer's intellectual property is preserved, until purchased by the client. The result is a far more reasonable exchange between idea purchaser and idea contributor. Boom Ideanet facilitates that exchange through an online platform so freelance creatives can live and work anywhere and tackle challenges from everywhere.
Boom Ideanet has refined its approach over the last two years with a Fortune 400 retailer. Now Boom Ideanet is making its ethical crowdsourcing idea network available to other marketers, in particular reaching out to brands from coast-to-coast. The "Ideanet" operates out of Kansas City, but its reach is global, not just in the brands it can serve, but in the disciplined talent it attracts.
The Boom Ideanet approach serves as an on-demand idea-creation resource for brands with in-house agencies, advertising agencies looking for a boost in creative firepower or experience in a specific category, advertising production companies who wish to bring original scripts to their direct clients, start-ups, businesses that lack in-house creative resources or the workload to justify putting a firm on retainer, and more.
About Boom Ideanet
Boom Ideanet, LLC represents an ethical crowdsourcing platform for marketing and advertising idea creation. Boom Ideanet specializes in ideasourcing for national retailers, production companies, and advertising agencies. Boom Ideanet manages a global network of creative freelancers, hosts assignments, and collects ideas in its proprietary online application.
Media Contact:
Andrea Moran
Boom Ideanet, LLC
816-216-6664