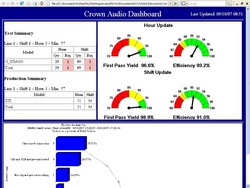 Being able to do data analysis in real time means that we are able to take a proactive approach by catching issues as soon as they begin to vary from control levels rather than waiting for an alarm condition to occur.
GOSHEN, Ind. (PRWEB) September 28, 2007
With the success of the recent CDi and XTi Series product launches, Crown's production throughput has increased. Therefore it became critical that the factory continue to make improvements in its processes to support this. As a result of the implementation of GainSeeker Suite, as well as the conversion to being lead-free (RoHS complaint), Crown has now transformed itself from a batch and queue system of assembly to a continuous flow process with a constant examination of quality and focus on improving it.
Crown Quality Support Manager Rupa Shanmugam explains the software implementation, "Whereas most companies simply use GainSeeker for defect management, Crown has gone beyond this basic use and is utilizing GainSeeker in three different areas: real time data collection of test results at board level and finished product, real time display of yield and efficiency data and document delivery stations that provides work instructions, set up sheets, defect Pareto information and other pertinent documents such as engineering deviation or quality alerts if required at each work station."
The document control portion is truly unique, as it has moved the work instructions from the paper domain to electronic. This modification means that people can make a change to the work instruction in real time and distribute it to all the workstations simultaneously. Previously, the only way to modify work instructions was to create new paper instructions, which resulted in a time lag as well as the possibility of someone having an out-of-date instruction. The key to matching this with GainSeeker is that Crown can immediately react as problems are found and issue revised work instructions in mere minutes.
Coupling the electronic work instructions with the defect tracking information also allows for the highlighting of key trouble points in the process. If a particular process is causing problems, it is possible to track it down to a specific workstation, modify the work instruction and easily add in a second check step if needed. GainSeeker Suite also couples these instructions with employee tracking so that Crown can determine if a problem with a particular process is an operator training issue, dexterity, or workstation configuration issue. Shanmugam adds, "Being able to do data analysis in real time means that we are able to take a proactive approach by catching issues as soon as they begin to vary from control levels rather than waiting for an alarm condition to occur."
Prior to implementing GainSeeker, Crown would have to wait for failures to become apparent later in the process. By that time, it was difficult to know what workstation and operator combination might have been the problem. Changing to this process allows Crown to look at the interaction of people, the workstations, the process, and the products cumulatively.
The human element is key in the GainSeeker process. In addition to defect tracking, Crown is also tracking its successes in real time. There are now LCD projection screens on the factory floor that show production information in real time. Refreshing every five minutes, the displays allow workers to see at a glance how much each line is producing, their work rate, testing results, and packing information.
Furthermore, GainSeeker is not just being used in the production environment; it is also being used in the service and repair portion of Crown. Previously the challenge was coalescing the data from the different repairs being made in factory service and the data seen from the factory floor. The GainSeeker system was designed to allow for this information to be looked at together and be able to examine it effectively. If a product comes in for repair, everything from how it was tested to when it was shipped is considered and viewed in the examination of trends. Previously, this information could only be examined through a manual process of collating the two different systems. These systems are now tied together to allow for an overall view of the quality of Crown products - not just how the quality is at the end of the assembly line, but how it is in the field for Crown's customers where it is ultimately the most important.
About Hertzler Systems
Hertzler Systems provides seamless, accurate data acquisition solutions that drive business transformation. They have been in this business for over 25 years, with a diverse customer base in service, transactional and manufacturing environments. Their software and services enable clients to connect, collect and analyze data; building a robust data infrastructure for making data-driven decisions. These capabilities help clients to reduce costs, cycle time and errors, and increase profitability. Hertzler's clients include BAE Systems, Crown Audio, IDEX Corporation, McCormick & Company, Inc., Hormel Foods Corporation, and Titleist & Footjoy Worldwide, just to name a few.
About Crown International
Crown International, a Harman International company, manufactures amplifiers, microphones, and systems control products for professional audio markets worldwide, with corporate headquarters located in Elkhart, Indiana. For more information, visit Crown online at http://www.crownaudio.com.
About the Harman Pro Group
The Harman Pro Group (http://www.harmanpro.com) is the world's largest provider of professional audio products and system solutions for commercial sound, contracting, tour sound, recording and broadcast, musician, portable PA and cinema applications. The Group is headquartered in Northridge, California and includes industry leaders AKG Acoustics, BSS Audio, Crown International, dbx, DigiTech, JBL Professional, Lexicon, Soundcraft, and Studer. The Group is part of Harman International Industries, Incorporated (NYSE:HAR), a leading supplier of high-quality, high fidelity audio products and infotainment systems for the automotive, home and professional markets.