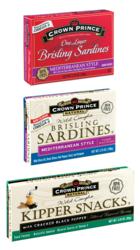 City of Industry, CA (PRWEB) March 28, 2012
Just in time for summer, California-based Crown Prince Seafood announces two exciting new products: Mediterranean Style Brisling Sardines and Kipper Snacks with Cracked Black Pepper. The Kipper Snacks with Cracked Black Pepper will be added to the Crown Prince Natural line, while the Mediterranean Style Brisling Sardines will be added to both the Crown Prince and Crown Prince Natural product lines. Both products will be available nationwide, beginning in May.
Brisling Sardines Go Mediterranean
Crown Prince Seafood's Mediterranean Style Brisling Sardines offer a delicious twist to straight-out-of-the-can dining with the addition of savory herbs, red pepper, and black olives. Packed in Scotland, these sardines are wild caught by sustainably managed fisheries in the North Sea, and are available in BPA-free cans.
These subtly-seasoned sardines join Crown Prince Seafood's commanding selection of Brisling Sardine preparations including: cold-pressed extra virgin olive oil, spring water, tomato sauce and tangy mustard.
Mediterranean Style Brisling Sardines can be eaten straight from the can, gently mashed onto crusty baguette slices for a delicious snack or appetizer, or used as a flavorful addition to traditional recipes.
Omega-3 Powerhouse Kippers Now Seasoned for Excitement
Kipper Snacks with Cracked Black Pepper kicks it up a notch with the addition of cracked black pepper to naturally wood smoked kippered herring. Ready to eat and packed in BPA-free cans, Kipper Snacks with Cracked Black Pepper are a tasty source of Omega-3 fatty acids.
"Kipper" is the long-used name for herring that has been split, brined, and cold smoked over hardwoods. Herring is a mild white fish that provides an excellent source of protein and has been enjoyed throughout the Northern Hemisphere for centuries.
These fish will also appeal to the ecologically-minded consumer. Rated as a Good Alternative by Monterey Bay Aquarium, Crown Prince Natural Kipper Snacks are wild caught by sustainably managed fisheries off the east coast of Canada. Currently this fishing area is under assessment by the Marine Stewardship Council, so the company eagerly anticipates being able to add the MSC logo to the product later this year.
About Crown Prince Seafood
Since 1948 Crown Prince has provided the finest quality canned seafood to the American marketplace. In 1993, Crown Prince expanded our business into Mexico. Crown Prince Seafood has since added Crown Prince Natural and Ocean Prince to our brand lines. As an American family-owned business, three generations of the Hoffman family have dedicated themselves to meeting the needs of the consumer. Today, Crown Prince brands are well known throughout the United States and Mexico.