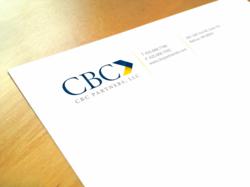 Through CRP's process, we learned a lot about ourselves and are now able to better and more efficiently articulate our mission.
Seattle, WA (PRWEB) June 26, 2012
Creative Retail Packaging recently released a new corporate identity for their client CBC Partners – a limited liability company based in Bellevue, WA. Since 2005, CBC has provided debt financing to high growth, middle market companies in the Pacific Northwest and beyond with a history of zero write-offs or write-downs.
CBC approached CRP Design for a branding facelift in early 2012. Their goal was to represent the professionalism and forward momentum of their services in their corporate identity and marketing efforts. CRP helped them achieved this goal first by facilitating a brand strategy workshop to identify the CBC's core brand values, attributes, and characteristics. After the workshop, CRP Design produced an identity toolkit, complete with a new logo, print marketing collateral, and presentation templates.
"We all loved the process and now love the result," said CBC's President John Otter. "Through CRP's process, we learned a lot about ourselves and are now able to better and more efficiently articulate our mission to our two main stake holders: our clients and our investors. [We thank CRP] for making the effort meaningful, fun, time efficient and done on time."
Creative Retail Packaging is a Houston-based company with over 30 years of experience in the design, sourcing, and logistics of custom retail packaging. The company employs a fully staffed Design team specializing in strategic brand development, marketing strategy, graphic and web design. CRP has offices in Seattle, Houston, and Chicago, and distributes product from three CRP-owned and operated regional warehouses across the United States. http://creativeretailpackaging.com