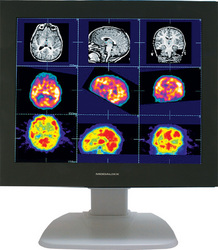 without the need for special video cards or expensive adaptors
Minneapolis, MN (PRWEB) May 19, 2009
Monitors Inc. through their website, MedicalDisplaysforLess.com, released a complete line of universal CRT replacements for medical devices today. These medical grade, plug and play LCDs substitute for older analog and digital monitors. Both monochrome and color LCDs, in 1MP and 2MP versions, are available for shipment today. This line of monitors will work with MRI, CT, Endoscopy, Radiographic, DR, CR, Cath Lab, RF, Mobile C-Arm, Portable X-Ray DR/CR, PET, Ultrasound, Nuclear Medicine, X-ray, Angiography, Surgery, RIS, PACS, and other medical devices that unique synchronization in the display. With new proprietary technology, these medical grade displays adapt and display the signals from GE, Philips, Siemens, Toshiba, Hitachi, Shimadzu, Picker, and many more manufacturers. Valuable medical equipment can now extended have life cycles.
The 1 megapixel color and grayscale 19-inch displays, the SCD 19102 and SMD 19102, feature the latest viewing angle technology and high luminance of up to 280 cd/m2 (candelas per square meter) for the color display and 1000 cd/m2 for the grayscale display. A wide range of signal inputs as well as EIZO's special "Force Mode" function (adapts the display to specific video signals) permits tailoring the display to even the most specialized application requirement. A multifunctional stand permits fully adjusting the display in height, tilt, swivel and landscape/portrait rotation.
Like all displays from EIZO, the new devices are pre-calibrated in the factory. The five integrated look-up tables (LUTs) loaded with practice-oriented settings of high image quality are stored in the display enabling the use of standard graphics boards. The displays can be set and re-calibrated in the field in accordance with the CIE or DICOM (Digital Imaging and Communications in Medicine) standard, for example, using calibration tools such as SMfit Total Care, which is supplied with each display.
The 2 megapixel Modalixx line of displays comes in 20.1 inch and 21.3 inch sizes, color and grayscale, and offers higher resolution and contrast specifications. The color monitors come equipped with the special ability to toggle between dedicated color or gray scale display function through the intuitive OSD. These monitors allow for the use of remote control by either an RS232 port or optional footswitch. The ability to accept any signal from 525 to 1600 lines and convert them into a 2MP image makes this line of monitors unique and very cost effective CRT replacements.
"With the continuing need to reduce medical equipment costs, this complete line of CRT replacements allows the healthcare industry to extend the life of useful diagnostic equipment with state of the art medical displays", said Kevin Sundquist, CEO of Monitors Inc., "without the need for special video cards or expensive adaptors".
There is a substantial amount of interest among the bio-medical community in this universal replacement for older medical equipment due to its versatility and low cost to performance ratio.
About Medical Displays for Less:
Monitors Inc., DBA as Medical Displays for Less, is headquartered in health science and technology prominent Minneapolis, Minnesota. It is an ecommerce-based business selling medical imaging display solutions, workstations, and related technologies for use in the medical imaging and PACS community. Its principles are scientists, imaging system developers and administrators with lengthy operating and modality development experience in the industry.
Contact:
Charlie Minter
Medical Displays for Less
866-369-1902
###