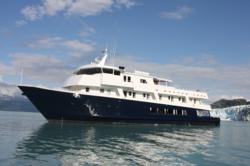 With 15 years specializing in cruises, it would be my pleasure to help plan your perfect vacation at sea and to stand behind you at every step, especially should anything go wrong
Mill Valley, CA (PRWEB) December 23, 2011
Steve Faber, owner of the Bay Area adventure travel company, CruiseOne Mill Valley, is offering clients state-of-the-art technologies, such as a customized web-based, smart phone application with information on each client's cruise line, ship and itinerary; as well as an easy-to-use, detailed CruiseOne Mill Valley website; and electronic luggage locators to help clients more easily locate their luggage at the end of a cruise.
Faber's one-of-a-kind, web-based app for clients with Android smart phone or iPhone clients is specifically tailored to each client's cruise with a series of webpages accessed through the phone's browser. It features a separate page for each port that details port-specific emergency contact numbers, and the address of the port and pier with their approximate locations pinpointed on a map. Clients also benefit from one-touch dialing that connects the user to the ship, after-hours desk, travel-insurance carrier, Steve Faber, the port or the pier. To access this app, clients can simply utilize a unique web address or scan the Quick Read Barcode Graphic on a small customized card.
The customized web-based app is but one of the state-of-the-art technologies that Faber presents. Potential clients can also begin searching for a cruise today on Faber's fully operational, easy-to-navigate website, at http://www.greatshiptrips.com. Visitors can search cruises by cruise line, ship, destination and travel dates. Clients can view the deck maps of any ship to help select their staterooms, choose excursions or even see projected wave heights for the upcoming week. Visitors can book through the website or by contacting Faber. Even if clients choose to book through the website, Faber is still available throughout the process to assist with needs.
"With 15 years specializing in cruises, it would be my pleasure to help plan your perfect vacation at sea and to stand behind you at every step, especially should anything go wrong. How much does this effort cost compared to booking direct with the cruise lines? Not a penny more and often a bundle less," Faber said.
With another one of CruiseOne Mill Valley's features, Faber's cruise-loving clients will no longer have to deal with the headache of locating their luggage at the end of their cruise. Electronic luggage locators help clients avoid the mess of searching through thousands of bags to locate and secure their luggage quickly and efficiently.
For more information on CruiseOne Mill Valley, call 415-322-3523 or view CruiseOne Mill Valley on the web at http://www.greatshiptrips.com.
About CruiseOne Mill Valley
Traveling the world as a travel writer to report on cruises, Steve Faber has been blessed with the opportunity to sail on 98 cruises on 71 ships of 31 cruise lines. As an independent CruiseOne cruise specialist, Faber capitalizes on combining his knowledge of ships and destinations with the powerful marketing clout and superlative client service of CruiseOne, the world's largest seller of cruise vacations. Faber serves the Bay Area. Contact him to discuss cruise itineraries, cruise discounts, adventure travel, river cruises and more.
###