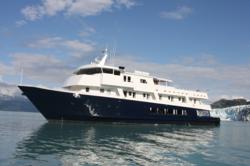 There are numerous reasons a client might choose this mode of transport
Mill Valley, CA (PRWEB) May 11, 2012
Adding to its core specialties of adventure travel, river cruising and expedition cruises, Bay Area's CruiseOne Mill Valley is pleased to announce its entry into the world of freighter and cargo ship travel.
"There are numerous reasons a client might choose this mode of transport," Steve Faber of CruiseOne Mill Valley said. "One group it appeals to is people who don't relish a long transpacific flight and have the time to make the leisurely ocean passage to Japan, China or Southeast Asia. This may not be a good choice for those seeking non-stop activities from start to finish, but a cargo ship deck is a great place to catch up on one's reading, either from books brought on board or borrowed from the ship's library."
Additionally, freighter travel offers flexibility in itineraries, allowing passengers to board where they want and disembark where they please. And while working maritime cargo vessels may lack the glitz and pizazz of conventional cruise ships, they are not without comfort or amenities. Nearly all ships have iPod docks and DVD players in their staterooms, with most offering a wide selection of movies to choose from in their libraries. WiFi Internet access is commonplace, nearly all have lounges/bars, and many ships even have swimming pools. Meals are usually served to passengers in the senior officers' mess.
In many cases, shore tours can even be arranged by the crew.
While it is typical to associate cargo ship travel with large, long-haul transoceanic freighters, a lesser-known-- but in many ways more interesting--subgenre includes the small, coastal working ships, many of which also carry passengers. Best known of these are the Norwegian Coastal Voyages sailings of Norway's Hurtigruten. These ships are combination cruise liners, people and car ferries, mail ships, and cargo carriers.
Faber's agency offers similar working voyages by a Canadian line that explores the beautiful Maritime provinces and delves into the narrow fjords of Greenland. Similar sailings can be experienced in Croatia, and, ideally for West Coasters, among the islands of French Polynesia and the Marquesas. The UK's Patricia is a fascinating voyage for passengers, as it makes its regular rounds performing maintenance on lighthouses, lightships and buoys around the coast of England, Wales and the Channel Islands.
For more information about freighter and cargo ship travel, call 415-322-3523 or view the cruise discounts service on the web at http://www.greatshiptrips.com.
About CruiseOne Mill Valley
Traveling the world as a travel writer to report on cruises, Steve Faber has been blessed with the opportunity to sail on 98 cruises on 71 ships of 31 cruise lines. As an independent CruiseOne cruise specialist, Faber capitalizes on combining his knowledge of ships and destinations with the powerful marketing clout and superlative client service of CruiseOne, the world's largest seller of cruise vacations. Faber serves the Bay Area. Contact him to discuss cruise itineraries, cruise discounts, adventure travel, river cruises and more.