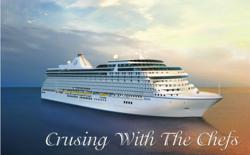 Not only have all of our chefs earned the respect of their peers and the James Beard Foundation, but they all are very animated and fun people to just hang out with.
St. Louis, MO (PRWEB) May 10, 2011
Sun, Sand and Sea Travel owners, Rodney and Lisa George announced today their one of a kind cruise vacation Cruising with the Chefs series has a new addition to the growing stable of James Beard finalist chefs. The newest addition is Chef Michael Smith of Kansas City, Missouri. Michael and his wife, Nancy, own restaurants Michael Smith and Extra Virgin, both located in the Crossroads Art District of Kansas City. Discerning foodies rejoice.
The Smiths will be traveling onboard the Oceania Nautica on the Dynasties and Rising Suns itinerary in March of 2012. Their 16 night cruise vacation will begin in Tokyo and includes the ports of Nagoya, Kyoto, Hiroshima, Seoul, Beijing and Shanghai before ending in Hong Kong. Several of these ports-of-call have an overnight stay, which means that the passengers get two days to take in all of the sights in that port.
Foodies have long followed Smith's career. As a chef, Michael won his first of several James Beard awards in 1999 when he earned the James Beard Award for "Best Chef in the Midwest", a first for him and for Kansas City. In June of 2002 Michael Smith co-founded the award winning bistro, Forty Sardines in Leawood, Kansas which was nominated for a James Beard Award for "best new restaurant" and won the James Beard Award for "best restaurant graphics" in 2002. Michael is also the owner of Michael Smith, a fine dining establishment, a Tapas restaurant, Extra Virgin, and is chef consultant to the highly successful fast casual concept, SPIN Pizza in Leawood, Kansas.
As an active member of the culinary community, Michael established a series of annual James Beard Foundation fundraising dinners, as well as developed local seminars and special events that featured celebrity chefs from all over the country. Michael and his recipes have been featured in numerous publications both locally and nationally including Gourmet, Bon Appetit, Wine Spectator and Robb Report. Foodies know Smith, since he lent his face and name to a number of major ad campaigns, including those for Grey Poupon mustard, Vita-Prep Blenders, Kikkoman Products and the Wisconsin Milk Marketing Board, Michael continues to rank among the nation's most recognized and respected chefs.
The Georges announced this addition to their Cruising with the Chefs series today from the offices of the Juvenile Diabetes Research Foundation in St. Louis. The Juvenile Diabetes Research Foundation International (JDRF) is the worldwide leader in funding research to cure type 1 diabetes, an autoimmune disease that strikes children and adults suddenly and lasts a lifetime. JDRF is the leading funder and advocate of type 1 diabetes science. JDRF's mission is to find a cure for diabetes and its complications through the support of research. JDRF is also committed to developing new and better treatments that improve the lives of people with type 1 diabetes in the near term and keep them healthy while we advance toward a cure.
JDRF is very grateful to Sun, Sand and Sea Travel for this unique cruise vacation, and hopes everyone will want to go "Cruising for Our Cause" and enjoy this phenomenal opportunity to cruise with one of Kansas City's top chefs and his wife, Nancy.
Staying true to their themed cruise vacations, this journey will be a culinary delight as well. "Not only will our guests enjoy the fabulous food that Oceania Cruises is known for throughout the industry, but they will also learn from one of the top chefs in America today, Michael Smith," said Lisa George of Sun, Sand and Sea Travel, LLC.
Most foodies and wine lovers recognize the opportunity, not only to be in the presence of this highly acclaimed Master Chef, but to learn from him in a series of "hands-on" cooking demonstrations. According to Rodney George, of Sun, Sand and Sea Travel, LLC, "Michael will be doing a number of sessions in the culinary center for our clients onboard Nautica as well as a session or two for the entire ship from one of the larger venues onboard Nautica. Our clients will even have the opportunity to shop with Michael and Nancy in several of the ports-of-call."
According to George, "Not only have all of our chefs earned the respect of their peers and the James Beard Foundation, but they all are very animated and fun people to just hang out with. For those unfamiliar with their skills, a world of enjoyment awaits you and. For those who are familiar, just imagine the opportunity to get up close and personal with your favorite chefs for a 10 or 15 day adventure at sea."
For clients who book their cruise vacation prior to June 30, 2011 and pay their initial deposit, the Georges are offering 2 for 1 cruise fares (off brochure rates) and free roundtrip airfare from over 20 North American gateway cities. "Time is of the essence! These discounted Cruising with the Chefs fares on our 'inaugural chef sailings' with free round trip airfare are applicable when the Cruising with the Chefs package is booked prior to June 30, 2011," added George.
Also partnering in this a new cruise vacation series is Sauce Magazine , a St. Louis based culinary, dining and entertainment magazine. According to Sauce founder Allyson Mace, "We are so excited about partnering in this fabulous charitable culinary adventure with some of the best chefs that I personally know, along with all the great folks at Sun, Sand and Sea Travel. To do these first several adventures on these fabulous Oceania ships, is a huge added plus, especially for all of us foodies."
The George's plan to expand this series later this year. Foodies can look forward to cruise vacations to Alaska, Hawaii, Australia, New Zealand, Tahiti, Africa, South America and the Caribbean. Check back often for new offerings or call 877-313-9009 and a Cruising with the Chefs travel reservation specialist will personally handle every aspect of your reservation.
Contact Information
Rodney or Lisa George
Sun, Sand and Sea Travel, LLC
dba Cruising with the Chefs
http://www.sunsandandseatravel.com
http://www.cruisingwiththechefs.com
877-313-9009
###