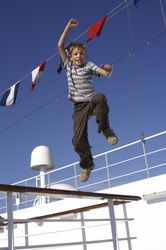 Working with Grandparents.com, we're looking forward to illustrating the very special experience that grandparents and their grandkids - and maybe a parent or two - can share only aboard ship.
NEW YORK (PRWEB) May 7, 2008
The family chosen to appear in the series' debut episode will spend eight all-expenses-paid days aboard a Regent Seven Seas cruise from Alaska to Vancouver, B.C., aboard Seven Seas Mariner. Grandparents.com's cameras will roll and capture what promises to be an intergenerational vacation of a lifetime.
From nearly endless Alaskan summer days spent at breathtaking ports of call like Skakway and Sitka, to indelibly memorable evenings aboard ship, "Grandest Adventures" aims to vividly illustrate the special bond that only grandparents and their grandchildren share, and capture how today's grandparents are more deeply involved, more plugged-in participants in their grandkids' lives.
"Grandest Adventures is both must-see content for our site, and one of the best ways we could imagine to showcase what grandparents, and grandparenting today are all about," said Jerry Shereshewsky, CEO, Grandparents.com. "The can't-miss message will be that grand adventures are shared every day, everywhere, among grandparents and their grandkids."
"Multigenerational vacationing is a growing trend, and one that looks here to stay," said Tom Grasse, Director of E-Business Development, Regent Seven Seas Cruises. "Working with Grandparents.com, we're looking forward to illustrating the very special experience that grandparents and their grandkids - and maybe a parent or two - can share only aboard ship."
To be eligible, families must include at least one grandparent and grandchild who will make the voyage, joined by as many as four additional family members, for a cruise leaving Seward, Alaska on August 27, 2008 and concluding in Vancouver, B.C. on September 3, 2008. Those interested in entering may visit http://www.grandparents.com/regentapplication for full conditions of eligibility and entry instructions, including required family information, guidelines for a submitting a brief family story, and instructions for uploading a family photo and an optional short video. Deadline for applications is June 30, 2008.
About Grandparents.com
Grandparents.com is the place for today's new generation of active, involved grandparents to find everything they need to get more fun, more smiles, and more memories out of the time they spend with their grandchildren. From thousands of great kid-friendly places and activities, deals and discounts, and expert advice on relationships, personal finance, gift buying and more, there is something for everyone who loves grandparenting. Free membership, including a weekly newsletter with featured site content is available at http://www.grandparents.com.
About Regent Seven Seas Cruises
Regent Seven Seas, a Prestige Cruise Holdings company, operates a fleet of medium-sized luxury cruise ships that visit over 300 ports on all seven continents, including Antarctica. RSSC is consistently rated among the world's top three cruise lines by readers of luxury travel magazines. Travel professionals worldwide voted RSSC the "World's Best Luxury Cruise Line" for the fourth consecutive year as part of the 2007 Travel Weekly awards and readers of Conde Nast Traveler magazine voted RSSC "World's Best Small-Ship Cruise Line" in 2007.
About Prestige Cruise Holdings
Prestige Cruise Holdings (PCH) is a subsidiary of Apollo Management L.P. and the parent corporation of Regent Seven Seas Cruises and Oceania Cruises. Formed in 2007 to manage select assets in Apollo Management's cruise investment portfolio, PCH is led by Chairman and Chief Executive Officer Frank J. Del Rio, the founder of Oceania Cruises. PCH is the market leader in the Upper Premium and Luxury segments of the cruise industry with more than 4.450 berths between the Regent Seven Seas and Oceania Cruises brands, a number the company expects will grow to more than 6,700 berths by 2011.