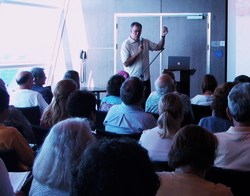 Marblehead, MA (Vocus) July 29, 2010
Zone Diet creator Dr. Barry Sears will set sail with Zone devotees on the Zone Cruise aboard a luxury liner through Alaska's Inside Passage on a May 8 through 15, 2011, journey combining five-star Zone dining, scenic attractions and lectures by the acclaimed best-selling author of "The Zone."
Departing from Seattle on Holland America's ms Oosterdam, Zone cruisers will sail along Alaska's majestic coastline to visit the capital city of Juneau, head inland to the picturesque city of Sitka and the small village town of Ketchikan and on to Canada's beautiful Victoria, British Columbia, before returning to Seattle.
"On the Zone Cruise, I will preview my next book, which explains that for the past 50 years Americans have increasingly consumed cheap, refined carbohydrates, leading to increasing rates of obesity and diabetes, both at crisis levels," Dr. Sears said.
The underlying cause of the obesity and diabetes crisis is not lack of willpower about dieting, but over-consumption of omega-6 fatty acids, which leads to an increased level of inflammation that turns on the genes that make us fat and keep us fat, he said.
"The implications for the American health-care system are dire as diseases related to obesity continue to rise. Fortunately, the anti-inflammatory Zone Diet enables people to reverse the process and lead a healthier, fit life, reversing the dietary patterns of the past half century," Dr. Sears said.
First-time Zone cruisers will learn how easy it is to follow an anti-inflammatory diet, as Zone meals will be served onboard, and Dr. Sears will personally advise the group members about overcoming dietary challenges. Those cruise members who join Dr. Sears each year on his cruise will learn about the latest related scientific developments.
The economically priced 2011 Zone Cruise features power-packed seminars, exquisite Zone cuisine, a magnificent Vista-class ship and spectacular ports of call, as well as seminars, a cocktail reception, Zone Drop-In Centers, consultations, the Zone Cruise Essentials Pack and a photo session with Dr. Sears.
For more information, call Cruise Holidays at 1-800-772-0847 and ask for the Zone Desk, or e-mail the Zone travel coordinator at Joe@CruiseHolidaysUS.com.
On the cruise, Dr. Sears will also unveil the latest Zone foods, each made with one part fat for every two parts of protein and three parts of carbohydrates and designed to alter the body's hormonal responses to cause appetite suppression for four to six hours.
"If people can lose excess weight eating the foods they enjoy, then that's the ideal foundation for long-term weight control. Our Zone foods, such as, pasta, bagels, rolls, bread, croutons, bagel chips and cookies, make the loss of excess body fat easy, inexpensive and delicious," Dr. Sears said.
Zone foods are available online at http://www.zonediet.com and are delivered via UPS.
Zone Labs, the world's leader in anti-inflammatory nutrition, markets Zone foods, fish oils and polyphenols. Dr. Sears' books have sold more than five million copies in the United States and have been translated into 22 languages. Dr. Sears is chairman and founder of Zone Labs Inc., which has headquarters in Marblehead, Massachusetts. More information is available at http://www.zonediet.com and http://www.drsears.com.
###