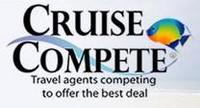 As noted many times in the press, we are the best in cruise travel
Detroit, MI (Vocus) June 9, 2010
ABetterStay.com™ is pleased to announce a partnership with CruiseCompete, a vacation planning website aimed at finding travelers the best deal on cruises through travel agent bids.
Powered by ABetterStay.com's distribution platform, CruiseCompete has expanded its focus on cruise travel deals to include incredible rates on vacation rentals in the US, Canada, Mexico, and the Caribbean. By connecting users to thousands of affordable vacation lodging options, CruiseCompete can now cater to the needs of virtually every type of traveler that visits their site looking for great deals.
"As noted many times in the press, we are the best in cruise travel," announced Bob Levinstein, CEO of CruiseCompete. "This success allows us to venture into other areas of travel. By partnering with ABetterStay.com, we are able to offer additional value to our current and future customers. We are very pleased with the affiliate program. The implementation was easy, and took less than a week, allowing our customers to start saving money right away." .
To date, CruiseCompete has provided over 6 million cruise line quotes in response to over 1.5 million user requests. This revolutionary system changed the way travelers shopped for cruises by providing an easy and convenient way to help travelers plan their ideal vacation.
"ABetterStay.com's network of over 1,500 vacation rental properties, condos, hotels and boutique resorts, is a perfect fit for CruiseCompete's cruise customer base," said Steve Reich, Senior Vice President of Sales at LeisureLink, Inc., parent company of ABetterStay.com. 'We are very pleased that CruiseCompete chose to join our affiliate program. CruiseCompete.com visitors will find unbeatable discounts on the vacation rental of their dreams, and the company will generate substantial commission revenue.'
About ABetterStay.com
ABetterStay.com is a premier online source for booking vacation rentals, condos, resorts, timeshares, bed and breakfasts and other alternative, high-value lodging. Specializing in popular destination vacation properties, ABetterStay.com offers multi-room accommodations with more space, privacy and amenities than typical lodging, often at a lower price. Powered by LeisureLink, Inc.'s distribution and revenue management platform, rates and promotions are updated in real time; guaranteeing consumers will always find the best deal on ABetterStay.com, eliminating the need to comparison shop from site to site.
About CruiseCompete
CruiseCompete.com was named one of the "25 Best Value Travel Sites" on the Internet by Kiplinger's Personal Finance Magazine and one of the 36 Web sites that consumers "should know" when planning a vacation, according to The Washington Post. For more information, visit CruiseCompete.com.
###