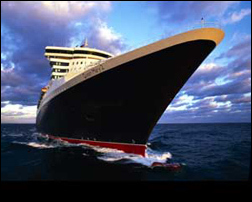 Pennington, NJ (PRWEB) January 23, 2007
What are this year's most intriguing cruises? Our editors have selected the Top 5 Cruises for 2007. Here at Cruise Critic (http://www.cruisecritic.com)], we're interested in cruise lines and ships that are playing against type -- and against conventional wisdom. So look for big ships in exotic destinations and small ships in more well-trodden ones. In some cases, the vessel itself excites -- who cares where you go!
Celebrity's Journey Joins the Fleet in May
Cruise to Bermuda aboard Celebrity's new Journey. Joining the fleet in May, it will be the most contemporary mid-size ship offering Bermuda itineraries. A high ratio of cabins with balconies, multiple dining venues and a charming spa put it at the top of our list. Seasonal homeport: Bayonne, New Jersey's Cape Liberty.
Disney Magic Offers First Disney Cruise Beyond the Tropics
Disney will be in Europe! The ship sails out of Barcelona and offers a 10- and an 11-night itinerary. Ports include Sicily's Palermo, Naples, Sardinia, Civitavecchia (for Rome), Tuscany, Marseilles, and Villefranche. Disney aficionados without kids may want to check out the trans-Atlantic repositionings.
Liberty of the Seas or Freedom of the Seas
A destination in its own right, Freedom of the Seas, which debuted this year, has the now-famous surf park, kids' splash park and boxing ring to go with the cruise line's already established ice skating rink, rock climbing wall, and indoor promenade teeming with shops and eateries. Liberty of the Seas, which debuts in April 2007, is a sister ship to Freedom of the Seas. Who cares where you go on these mammoth vessels? But if you must know, both ships will alternate between the same Eastern and Western Caribbean itineraries.
Cross The Atlantic On Regent Seven Seas Voyager or Cunard's Queen Mary 2
For those who always lament how little time is actually spent on board, Seven Seas Voyager's two repositioning cruises -- in April and November -- offer eight-day all-at-sea sailings between Europe and North America. Still dreaming of basking in luxury? Cunard's Queen Mary 2 offers similar appeal.
Princess Cruises' Sapphire Princess in Asia
This ship appeals to a wide range of travelers, but we're especially excited about the fact that it offers all the big-ship amenities, is a reasonable length, and is moderately priced. The 16-night trip sails between Beijing and Bangkok; stops along the way include Japan's Nagasaki and Okinawa, China's Hong Kong and Shanghai, Vietnam's Nha Trang and Ho Chi Minh City, and Singapore.
About Cruise Critic
Cruise Critic is the leading cruise community and editorial site on the Internet providing cruise reviews , cruise line profiles, ports of call highlights, cruise deals, cruise news and features, and active cruise forums.
Cruise Critic is a Webby Award Honoree and has twice received a bronze in the prestigious Society of American Travel Writers' Lowell Thomas Awards. The site has been critically lauded by publications such as The New York Times, The Washington Post and Kiplinger's Personal Finance, among others, and was named to Travel + Leisure's "The 35 Best Travel Sites."
Cruise Critic is published by The Independent Traveler, Inc. , a closely held New Jersey Corporation.
Contact:
Carolyn Spencer Brown, Editor
609-730-9155 x 17
# # #