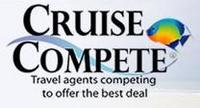 Cruise lines today are pursuing male cruisers as never before, creating new on-board experiences that cater to men.
Detroit, MI (Vocus) June 2, 2010
Contrary to popular belief, guys and cruise travel can - and do - go together. With a surge in the male demographic, cruise lines now offer men of all ages plenty to do - with or without accompaniment by the women in their lives.
"Cruise lines today are pursuing male cruisers as never before, creating new on-board experiences that cater to men." says Bob Levinstein, CEO of Cruise Compete, LLC. "At sea or in port, there's plenty to keep the male cruiser contented all day long, whether in "active mode" or simply relaxing by the pool or on the beach."
Industry reports indicate men now account for approximately 45 percent of all cruise guests, a trend that reveals a cruise's ever-increasing appeal to men of all ages.
Fabulous Food "24/7"- Casual buffets and bistro-style cafes offer light menu items, and ethnic specialty restaurants offer the reservations-only dining experience. Virtually all ships feature 24-hour pizzeria services and room service, and in many eateries, casual attire is welcome.
Hit the Gym- Want to continue that workout at sea? The ships have terrific running tracks and state-of-the-art gyms/equipment. What better way to work off that cruise cuisine than doing a few laps around a track atop the ship's upper deck, breathing in fresh sea air?
Tee It Up - Men who prefer to hit the links rather than the pool or beach can still enjoy the game at sea. In addition to amazingly real, on-board computerized golf simulators, many cruise lines have expanded their stops at some of the world's most picturesque and challenging golf courses throughout the world.
Sun Time is Fun Time - The cruise lines have turned themselves into floating entertainment centers and include innovations like bowling alleys and Flowrider surfing pools. Virtually all of the major cruise ships feature winding water slides, challenging rock-climbing walls, giant trampolines and ice skating rinks (sans hockey sticks and pucks), among other amenities.
Private Islands - Many of the cruise lines utilize "private islands" which include amenities such as beach and water sports, snorkeling, boat and kayak rentals, and hiking and sightseeing opportunities.
Experience Unique Adventure - Cruise travel offers countless opportunities for men looking for adventure and a raise in adrenaline levels. Carnival Cruises take travelers to Belize on an unforgettable cave tubing and rain forest exploration tour, and Crystal Cruises puts travelers who enjoy speed behind the wheel of a Ferrari, Lamborghini or Maserati for an independent exploration of Monaco.
Pick Your Vice: Beer, Wine, or Cigar Bars - International brewers showcase signature and specialty beers and sponsor special onboard beer-tasting parties for those of drinking age. For the more sophisticated palate, wine-tasting opportunities and cigar bars abound.
Roll the Dice - For the "gambling man", virtually all ocean cruise ships feature floating casinos (with the exception of Disney Cruise Lines). Blackjack, roulette, poker, craps and slot machines are popular; veteran cruisers report that Royal Caribbean's newest ships feature the largest gaming areas. (Note: the casinos only operate when the ship is at sea, or when local laws allow gaming in port.) If an on-board casino is not enough, many cruise ports also feature land-based casinos.
Relaxation (Spa) Heaven - Industry reports say approximately one-third of spa guests are now men, and is not uncommon to see them enjoying massages, facials and pedicures. Other popular services include aromatherapy, hydrotherapy and thalassotherapy (seawater-based treatments).
Greatest Shows on Earth – Forget the lounge acts: the cruise lines are producing multi-million dollar, special effects- laden entertainment extravaganzas, such as Royal Caribbean's "Invitation to Dance", based on the popular Dancing with the Stars television show,
As [CruiseCompete CEO Bob Levinstein comments, "Cruise fares include accommodations, superb food all day and night, white-sand beaches, world-class golf, relaxing spas, gambling, adventure and quality entertainment and shows. Simply put, for an average of about $100/day, there is no better value out there."
About CruiseCompete – CruiseCompete.com was named by The Wall Street Journal as The Best in Travel and has been a repeat on Kiplinger's Personal Finance magazine's Best List for Cruises in its travel category. Since 2003, over 1,500 cruise experts have provided almost 6 million quotes to more than 1.5 million quote requests. For more information, visit CruiseCompete.com or CruiseCompeteGroups.com.
CruiseCompete – Find us on Facebook and Follow us on Twitter!
Affiliated Companies – ResortCompete.com saves consumers time and money with best deals on all-inclusive resort vacations.
ResortCompete – Find us on Facebook!
AllThingsCruise.com is a portal for cruise enthusiasts, dedicated to the joy of cruise travel and planning the best cruise vacations ever. A valuable unique feature of AllThingsCruise is a complimentary e-card travelers can send to family members and others prior to departure.
AllThingsCruise – Find us on Facebook!
###