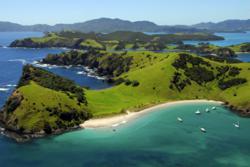 The appeal is the exotic nature of the destination, coupled with the fabulous arrays of ships and the unique opportunities ashore that has made this such a popular sailing and one to knock off the bucket list.
Kansas City, MO (PRWEB) April 16, 2013
While the "land down under" was a top destination in the Cruise Dreams Bucket List survey, nothing prepared the agency that specializes in group cruises and incentive travel for the response they got when they announced a Sail Away with Cruise Dreams to Australia New Zealand, March 10- 22, 2014. While this was not the top destination on the Bucket List, it seems to be top of the list for cruisers making plans for next year.
"I think the appeal is the exotic nature of the destination, coupled with the fabulous ship we've booked and the unique opportunities ashore that has made this such a popular sailing," says Kim Gibbons, founder and president of Cruise Dreams an agency known for group travel and group cruises. "The Celebrity Solstice is a wonderful ship and a favorite cruise line offering an amazing itinerary."
Gibbons says the Solstice is an award-winning vessel with entertaining firsts you're not likely to find elsewhere – like a Lawn Club at Sea and the Hot Glass show. Its touches like these that caused well-known Frommers, longtime guide book authority to name the Solstice class as best cruise ships in 2011.
Any "Sail Away with Kim & Cruise Dreams" is a unique experience. Gibbons escorts the group and plans unique events on board and also ashore with at least one included group shore excursion and much more.
The "Sail Away with Kim" cruise and the others to this area of the world are a study in contrasts and unique opportunities beyond koalas and kangaroos. Combine more than modern architecture that's celebrated worldwide with captivating aborigine culture, unbelievable scenery from coastlines to mountains to forests and even volcanoes with all the metropolitan experiences you can expect in Sydney and you begin to see why this cruise and others like it seem to be number one for next year.
Some of the highlights include an excursion passengers could choose in Akora that takes in the frozen wonders of Antartica with an all-terrain snowmobile. Or a Scottish experience in Dunedin with a tour of a brewery combined with a visit to Lamach Castles and a lunch and haggis ceremony.
Other New Zealand particular points of interest that Gibbons is recommending to those who join her on the cruise are varied – anything from cultural excursions to a Maori village or jetboats, kayaks or geothermals plus a visit to Hobbiton, where parts of the Lord of the Rings was filmed. The more adventurous may opt for sand boarding on the giant dunes in Hokianga! Or passengers may select coastal safaris in Wellington, a gourmet walking tour or even a visit of a winery.
Most passengers plan on a two night pre-cruise stay in Sydney and a post-cruise stay in Auckland to take full advantage of the experience.
These and other cruises offer special group amenities like shipboard credits, extra savings, included excursions, events and more. But demand is extremely high.
A new "Steals and Deals" button on the Cruise Dreams website features best and most intriguing cruises for the savvy traveler.
# # #
Cruise Dreams is a specialized travel agency focusing on corporate incentive travel by land or at sea as well as group travel and group cruises. While Cruise Dreams Incentive Travel is well-known and respected by cruise lines, hotels and ground operators, their trademark is really the inventive and innovative packages they create for their group and incentive travel clients. Unusual excursions, remarkable events coupled with high value are the key elements of any Cruise Dreams group tour or cruise. No matter what kind of group travel you plan, a cruise, full ship charter or a stay at 5-star all-inclusive luxury properties world-wide, Cruise Dreams provides expert advice and savings. For more information, visit http://www.cruisedreamgroupescapes.com/incentive-travel/ or call 1-877-999-4533.