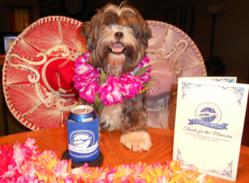 Cruise Dreams is always coming up with something new and different – whether it's a customized Koosie photo contest or a private shore excursion for an incentive trip that will keep participants talking and coming back for more!
Kansas City, MO (PRWEB) November 06, 2012
Thousands of Koosies mailed to Cruise Dream Clients for chance to win 16 staterooms!
Thousands of personalized Cruise Dreams Koosies have been mailed out this week to alumni groups, individual clients, family reunion groups and the full range of businesses who book incentive trips with the company. What's the big deal with the Koosies? Show off some photo skills and increase the odds of winning a dream cruise for 16 friends or family members to a "Bucket List" cruise destination. Imagine treating everyone to a once in a lifetime cruise in honor of Cruise Dreams- The Cruise Professionals, LLC 15th Anniversary.
How do you win?
Just take a picture of the Cruise Dreams Koosie in an exotic, interesting, decorative or unusual way, upload it or send it to Cruise Dreams, and get friends and family to vote. Better yet, get their friends and family to vote and travelling to a dream cruise location for 7 nights may be in the near future. The "Capture Your Koosie" Photo Contest is a first for the company but has gotten so much feedback from their loyal clients that they've decided to have a contest of some sort EVERY YEAR, just for their loyal passengers.
"Here's the surprising part," said Kim Gibbons, founder and CEO of Cruise Dreams. "So many people are calling or emailing wanting to get a Koosie and enter the contest. We're sorry, but we have to tell them no, it's only for our past passengers." That's why Cruise Dreams decided to have some sort of customer appreciation contest every year - to give new customers a chance to appreciate the Cruise Dreams difference and possibly win an exciting prize.
Passengers keep coming back in record numbers and telling their friends about the difference that booking with Cruise Dreams can make for a family, a group or even an incentive travel cruise. 98% of clients book another trip or cruise and almost every referral comes from a loyal and satisfied customer. It's easy to see why. Cruise Dreams is always coming up with something new and different – whether it's a customized Koosie photo shoot or a private shore excursion for an incentive trip that participants will talk about for years to come.
Cruise Dream clients can submit a creative photo from now until December 15, 2012 featuring their Cruise Dream Koosie. The dream cruise for themselves and 15 guests will be to a surprise bucket-list cruise destination for 7 nights chosen by the company's founder, Kim Gibbons.
Just wait and see what she chooses!
# # #
About Cruise Dreams:
Cruise Dreams is a tailored travel company that specializes in cruising and five star all-inclusive luxury properties around the world, headed by Gibbons, a travel and business veteran of over 24 years. Cruise Dreams provides services for every kind of group travel imaginable, from corporate events to incentive travel and family reunion cruises, as well as individual client cruise and luxury all-inclusive vacations. Their expertise with partial and full ship charters is unmatched and offers advantages on both the land and sea.
The company utilizes a "Dream Team" of travel professionals located in over 10 countries with more than 100 combined years of travel experience. With a decade-and-a-half of service, Cruise Dreams has established solid connections with cruise lines, hotel properties and ground operators around the globe, and has emerged as a top producer in group travel and incentive travel. With clients all over the world, they have grown to be one of the top group and incentive travel companies.
More about Cruise Dreams – both its history, and its current array of travel services – can be found by visiting the website at http://www.cruisedreams.com OR http://www.cruisedreamgroupescapes.com