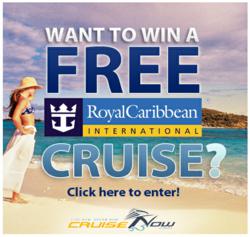 It really shows you the power of social media. When your friends recommend something the influence and magnitude is incredible.
Charlotte, NC (Vocus/PRWEB) March 15, 2011
Cruise Discounter CruiseNow.com recently launched a very innovative and unique Cruise Giveaway with Royal Caribbean International to giveaway a cruise for 2 on a 7 night Royal Caribbean Cruise. What makes this contest so unique is the introduction of social media. The sweepstakes of the past are traditionally an email or name sign up including, but not limited to, some minor demographic information. CruiseNow.com has taken that concept to the next level.
Online users are prompted to enter their email address to earn an entry in the contest, but then are invited to "connect" with Cruise Now socially to earn additional entries which will enhance their chances of winning the cruise. Some of these extra opportunities are, "Liking" CruiseNow.com on Facebook, Following them on Twitter, Retweeting the promotion to their friends, sharing the promotion on their Facebook wall, subscribing to the Cruise Now YouTube channel, reviewing a cruise ship they have been on in the past for their friends and much more. Fans of the contest will have the opportunity to earn up to 9 additional entries in the contest.
Initial response has been overwhelming and CruiseNow.com is fielding calls from news outlets across the country interested in finding out more about this innovative concept. John Keen, CEO of CruiseNow.com, says "I knew we had something special when we saw the huge response to the contest in the first 24 hours. It really shows you the power of social media. When your friends recommend something the influence and magnitude is incredible."
The grand prize for this sweepstakes is a 7 night Caribbean cruise for 2 on Royal Caribbean Cruise Lines. Once Royal Caribbean heard about the social aspect of this sweepstakes they jumped on board to be the cruise line of choice for the winner. They too have been pleasantly surprised by how quickly the contest has spread. It rivals many much more expensive similar sweepstakes that have been done in recent years. It is a true testament that social marketing is here and working in a big, big way.
About CruiseNow.com
The next generation in online cruise travel, CruiseNow.com is proud to bring cruising enthusiasts around the country a number of new, exciting technologies to find the best discount cruises possible. With its innovative CruiseText® and in-depth CruiseCast videos, finding the best deals is easy, and with the best prices and friendliest service around, your dream cruise starts here. Live Now. Dream Now. Cruise Now.
###