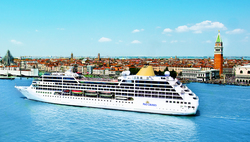 No other cruise line offers this breadth of choice specifically for the British cruiser.
(PRWEB) December 10, 2009
P&O Cruises is bucking the industry trend towards ever larger vessels by introducing a ship to its fleet that will accommodate just 710 passengers and will be able to visit the "off the beaten track" destinations that are inaccessible to some of the bigger cruise ships of today.
The new ship will be named Adonia and will join the fleet in May 2011, to become the smallest of P&O Cruises seven ships. Along with Arcadia she will be an adult only ship.
Built in 2001, more than three-quarters of her 355 well-appointed cabins have balconies. Adonia's public rooms will have a traditional feel and feature wood panelling, leather armchairs and fine artwork. She will have an extensive library with over 4,000 titles and a grand lounge with an intricately inlaid wooden dance floor and stage to host a range of entertainment, from after dinner speakers to shows by P&O Cruises Headliners Theatre Company.
Adonia will also have the signature P&O Cruises features of a forward Crow's Nest observation lounge with a nautical feel, and Anderson's, a centrally located traditional club style lounge bar.
P&O Cruises managing director, Carol Marlow said: "I am delighted to announce this great news in response to our passengers' comments to me that some prefer smaller ships. The addition of Adonia will deliver an elegant and welcoming ship with real small ship charm. She will offer a truly intimate and traditional cruise experience, yet with all the comforts you would expect from a modern vessel. With this size of ship our passengers will be able to get to know their fellow cruisers and crew easily as they travel to some of the most intriguing destinations on the map."
"Whilst larger ships have their own appeal, with the spectrum of bars, dining and entertainment choices they can offer, others really enjoy a smaller ship, with its more intimate ambience. No other cruise line offers this breadth of choice specifically for the British cruiser."
Adonia's itineraries and fares will be announced in Spring 2010. For more information see http://www.pocruises.co.uk.
About P&O Cruises
P&O Cruises can trace its roots back to 1837 when the Peninsular Steam Navigation Company was awarded the lucrative Admiralty contract to carry mail to the Iberian Peninsula and beyond. Today P&O Cruises combines innovation, professionalism and unrivalled experience on its fleet of seven ships dedicated to the British market. Building on this wealth of knowledge and experience, Ventura was launched in April 2008 and will be followed by Azura in 2010. P&O Cruises offers passengers the most stylish and contemporary holidays afloat with destinations including the Mediterranean, South America, Scandinavia, Round the World, Atlantic islands and Caribbean cruises.
###