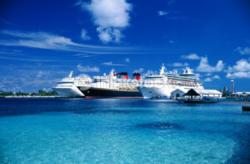 It's the Love Boat until something unpleasant happens -- and then they can dump you in the nearest port.
Miami, FL (Vocus/PRWEB) March 23, 2011
As the cruise ship industry gears up for another record-breaking season, the Florida cruise ship injury lawyers of Gerson & Schwartz are urging that passengers -- and legislators -- gear up, too: to demand long overdue reforms to the dangerous practice of cruise ships leaving sick and injured passengers behind in foreign ports.
"It's the Love Boat until something unpleasant happens -- and then they can dump you in the nearest port," says Philip M. Gerson, senior partner at Miami-based Gerson and Schwartz, and a longtime advocate for cruise industry reform. "When things go wrong -- if you get sick, if you get hurt, if it's the cruise line's fault or not -- you can count on being put off the ship as soon as possible, even if you are in a remote or primitive port."
Cruise passengers are expected to increase by 4.1 percent in 2011, according to Cruise Industry News, and to be sure, notes Gerson, some important steps toward industry reform have been taken; most notably, the Cruise Ship Safety and Security Act of 2010, signed into law by President Obama last July. But still more action is needed, says the cruise ship injury lawyer. So, too, is an increased focus on passenger education, enabling travelers to understand what their rights at sea are -- and aren't.
The problem is that many passengers board a ship without realizing just how precarious their position can become should accident, injury, or sickness strike. Understandably -- and often wrongly, according to Gerson -- passengers see the sophisticated medical facilities and communications technologies of modern cruise ships and feel secure that they will be well taken care of in an emergency. But it often doesn't work that way.
"Current law doesn't require a cruise line to provide any of these services," says Gerson. "While there is a duty to provide 'reasonable care' in an emergency situation, that duty is vague and ambiguous. Cruise ships can -- and do -- put an ailing passenger in a taxi and tell the driver to go to a hospital. Dumping medically needy people is standard practice among almost all major cruise ships."
Indeed, Gerson's own clients have suffered just such a fate. A widow from New Jersey was put in a taxi in Brazil after breaking her leg on a cruise ship; four hours later the driver still couldn't find the hospital and the injured passenger wound up requiring a chartered jet to take her home for surgery.
Compounding the problem, Gerson adds, is how medical care aboard ship is structured. "Doctors and nurses are typically independent contractors for whom the cruise line has no liability," he says. "Medical staff can often be poorly trained. These ships are floating resorts with more amenities than many land-based properties. But when things go wrong, they don't follow the standards of care that land-based companies routinely do."
Changing that has become a mission for advocates like Gerson and organizations including the International Cruise Victims Association. Together, they have brought the inadequacies of cruise line practices and regulation to the attention of elected officials -- and the public at large -- resulting in measures like the 2010 Act, which boosts security, law enforcement, and accountability on cruise ships. But much more, they say, must be done on the medical front. The hope is that increased public awareness will result in important changes here, too.
"The reason it costs billions of dollars to go to the moon is because we want to bring those travelers back safely," says Gerson. "The dignity of life is a core American value. We need to ensure that it's a value cruise lines share, as well."
Founded in 1970 by Miami personal injury lawyer Philip M. Gerson, the law firm of Gerson and Schwartz, P.A., has spent the past four decades protecting, and vindicating, the rights of individuals who have suffered serious harm. In the process, they have become recognized as "Top Lawyers" by the South Florida Business Review, and noted for their work with advocacy groups like the National Center for Victims of Crime and International Cruise Victims Association. To learn more about the firm and cruise ship injuries, visit http://news.injuryattorneyfla.com/
Contact:
Philip M. Gerson
Gerson and Schwartz P.A.
(305) 371-6000
info(at)gslawusa(dot)com
###