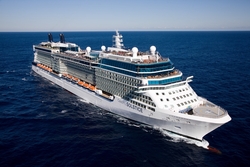 we just couldn't pass up the opportunity to partner with them on such a prestigious undertaking
Hauppauge, NY (PRWEB) February 26, 2009
Over its 14-year existence, Direct Line Cruises has done a lot of newspaper advertising. However, a milestone was reached today as Direct Line Cruises partnered with Celebrity Cruises in running a full 2-page color centerfold spread in the Travel Section of this Sunday's New York Times.
"This is, by far, the most expensive single newspaper ad we've ever run", said Greg Coiro, CEO of Direct Line Cruises, Inc. "But, when Celebrity Cruises approached us with the idea", Greg continued, "we just couldn't pass up the opportunity to partner with them on such a prestigious undertaking".
Coincidentally, Direct Line Cruises recently partnered with Royal Caribbean International at the New York Times Travel Show in NY City (earlier this month) and, according to Greg, "although the show was a huge success for us, relatively few of the NY Times readers in attendance had previously heard of Direct Line Cruises because we do not typically advertise in that newspaper." But Greg predicts, "that's all about to change."
###