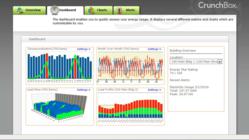 The CrunchBox version 1.5 brings real-time energy data to the fingertips of our clients enabling them, in the short-term, to better manage their day to day energy usage and, in the long-term, to develop better overall energy reduction strategies
Boonton, NJ (PRWEB) May 23, 2011
CrunchEnergy, a company dedicated to developing breakthrough technologies to help the world use less energy, announces the launch of the CrunchBox version 1.5 energy monitoring, management, and reporting platform. The innovative technology was developed to help businesses use less energy and, as a result, spend less money.
In less than six months CrunchEnergy launches version 1.5 of its CrunchBox technology platform to enhance its monitoring and reporting capabilities. Faster data collection and expanded data analytics are the main components of this release. Using a sophisticated set of proprietary algorithms, the CrunchBox transforms real-time energy information into intelligent data that clients can use to drive down their energy costs. The web-based CrunchBox Dashboard makes it easy to monitor, manipulate, and analyze data through a robust series of simple charts and graphs.
"The CrunchBox version 1.5 brings real-time energy data to the fingertips of our clients enabling them, in the short-term, to better manage their day to day energy usage and, in the long-term, to develop better overall energy reduction strategies," notes Scott Goldthwaite, the company's co-founder and CEO.
By allowing facility managers to visualize and better understand their energy usage, the CrunchBox highlights opportunities to reduce energy usage and load-level in their facility. As tariff rates for consumption vary based on time-of-day or season, and peak demand charges are high, ongoing potential benefits can be significant.
"We are incredibly excited about the launch of our CrunchBox version 1.5 energy monitoring, management, and reporting platform. We are working continuously to improve the functionality of the CrunchBox to bring better insight to our clients – helping them make actionable cost saving decisions," said Dan Lynn, the company's co-founder. "The CrunchBox platform, along with other CrunchEnergy investments such as TREXA, a revolutionary electric drive system that is transforming the electric vehicle industry, demonstrates our continued commitment to developing breakthrough technologies that help the world use less energy."
About CrunchEnergy
CrunchEnergy is dedicated to developing innovative new technologies that help the world use less energy. The company is a spin-off of Metem Corporation, a leader for 50 years in the design and production of gas turbine machining processes for OEMs and in the development of next generation technologies and processes to increase energy efficiencies. CrunchEnergy is led by a seasoned team of proven entrepreneurs and business professionals who have a history of building successful technology companies that have received tremendous accolades such as one of Deloitte's Technology Fast 50, one of New Jersey's Finest Companies, one of America's Best Places to Work, and the #1 Best Place to Work in New Jersey.
For more information please visit: http://www.crunchenergy.com
###