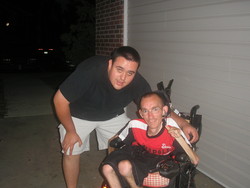 Charlottesville, VA (Vocus) June 24, 2008
Crutchfield, one of the nation's leading catalog and Internet retailers of consumer electronics, today announced the grand prize winner of its "You Dream It, We'll Help You Built It™" contest.
With his new digital media receiver playing his latest MP3s from the 160GB iPod®, and his new amplifier, speakers and subwoofers pumping the volume, Eric Jarnagin draws a crowd on the street as he drives. The not-so-subtle green streetglow lights that surround his wheels trigger a mobile lightshow to the beat of the music. But Eric's not rolling down the street in his car...Eric's in a wheelchair that's just been fully decked out by his brother-in-law after winning Crutchfield's "You Dream It, We'll Help You Build It" national contest.
Entrants were challenged by the Crutchfield team to submit the most unique idea for using the world-class A/V gear currently available for purchase at http://www.crutchfield.com . Robert Vega, of Fort Smith, Arkansas captured top honors with his submission for a custom wheelchair audio system for his brother-in-law.
The winning entry perfectly embodied the spirit of creativity, innovation, and caring, and also demonstrated how consumer electronics can serve to improve everyday life. Robert Vega entered the contest for one clear purpose: to figure out a way to create a little more fun for his brother-in-law Eric, who uses an electric wheelchair. Knowing Eric's love for music, Robert wanted to turn his wheelchair into a real "on-the-go" showpiece audio system that Eric would love and be proud of. The contest inspired Robert to draw up the plans and turn that dream into a reality.
"Music is Eric's life, and it's been his dream to have a sound system on his chair," said Robert. "I knew that this would make a dream come true for Eric, and I wanted to be the person that had a part in making this happen."
The basic components needed for the wheelchair system were an Alpine iDa-X100 digital media receiver, an Apple 160GB iPod® classic for the music source, 4" JL Audio coaxial speakers, and a Kenwood KSC-SW10 compact powered subwoofer housing two 5"x7" subwoofers and a 30-watt RMS amplifier. In addition, Eric's chair has Streetglow LED lights connected to a music interface that triggers a virtual mobile lightshow. With the help of Crutchfield's product advisors, Robert successfully overcame several practical obstacles, devising creative ways to ensure the various electrical components didn't adversely impact the electrical operations of the wheelchair and the delicate components were adequately protected to handle everyday wear-and-tear. The result was a wheelchair like no other, loaded with some of the best electronics on the market. Eric's chair can be seen at: http://www.crutchfield.com/promo/dream-it-winner.html
"We've got some of the most creative and knowledgeable A/V customers in the world," said John Haydock, senior vice president of marketing for Crutchfield. "We were confident that the contest would draw a huge number of fun and innovative entries, and we had a great time reviewing them all. We knew that picking a grand prize winner wouldn't be easy, but we didn't forecast how the contest could really change someone's life. We couldn't be happier with the overall response or with our grand prize winner - a true storybook ending."
Dave Graveline, host of the popular weekly consumer electronics radio show "Into Tomorrow", selected the two finalists from over 750 qualified entries, and then chose the grand prize winner. Each of the finalists received up to $2,000 in free gear from Crutchfield, and the grand prize winner took home an additional $1,000 Crutchfield gift card.
About Crutchfield Corporation
Crutchfield Corporation, which celebrates its 34th anniversary in 2008, is the nation's oldest direct integrated marketer (catalog, call center, and Internet) of consumer electronics products. Since its introduction in 1974, the Crutchfield catalog has been a respected authority on car and home entertainment products, winning several awards for quality, design, and usefulness. Crutchfield's Sales and Technical Advisors, the core of Crutchfield's commitment to superior customer service, are noted for their high integrity, product expertise, and technical support. They are available by phone, e-mail, and live online chat. Crutchfield.com offers a convenient, full-service shopping destination to buyers of car and home audio/video products. Crutchfield was the first vendor-authorized audio/video retailer on the Internet and is one of only two retailers to have won BizRate's coveted "Circle of Excellence" award eight times.
Contact:
Bridgette King
Crutchfield Public Relations
954.937.9616
Bridgette@getthescoop.com
###