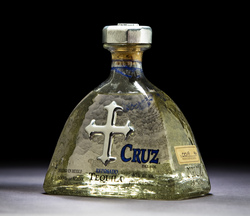 On the heels of this celebration and record-setting product growth, our entire CRUZ family is happy to respond to this good fortune by accelerating the national launch schedule which will take place as we kick off the 2008 winter holiday season.
Scottsdale, AZ (PRWEB) October 20, 2008
With the introduction of fall, CRUZ del Sol Tequila (CRUZ Tequila) celebrates new beginnings. The most recent example includes the hosting of an exclusive premier for their award-winning spirit and signature drink at Windows on the Green, the renowned restaurant located at the AAA Five Diamond Phoenician resort in Scottsdale. With more than 125 distinguished guests in attendance, CRUZ Tequila also reported a staggering 286 percent sales increase for the summer, a successful precursor to the introduction of their premium spirit to a national audience on November 24, 2008.
"The Phoenician and Windows on the Green -- which will soon house one of the country's largest premium tequila programs -- reflects the standards of excellence on which our signature tequila brand is built," states Joseph Pep Katcher, President of CRUZ Tequila.
Todd A. DeSilva, Director of Beverage at The Phoenician, remarks: "The philosophy behind our luxury collection of spirits is to provide the finest international offerings, creating an authentic cocktail culture that enhances the guest experience. CRUZ Tequila has been hand-selected as part of this resort-wide program. A versatile spirit, it is served both cognac-style, and in our signature CRUZ Paloma cocktail."
According to Shawn Long, Vice President of Sales for Republic National Distributing Company's Arizona Market, "CRUZ has delivered the best results of any Tequila we have introduced during my tenure with Republic. Sales from July over June showed a 286 percent growth rate. And that trend has continued as we enter the fall season, which is phenomenal."
"As leaders we learned quickly that building successful businesses can present a surprise or two," adds Todd Nelson, Vice President of CRUZ Tequila. "On the heels of this celebration and record-setting product growth, our entire CRUZ family is happy to respond to this good fortune by accelerating the national launch schedule which will take place as we kick off the 2008 winter holiday season."
About The Phoenician
Located at the base of Camelback Mountain, the 250-acre Phoenician resort offers two exquisite experiences -- a 583-room AAA Five Diamond luxury hotel and an exclusive Five Diamond boutique hotel, The Canyon Suites -- at one magnificent destination. The resort features elegant, newly renovated accommodations, distinctive and tantalizing cuisine across a variety of restaurants, 27 holes of championship golf, 12 lighted tennis courts, The Centre for Well-Being spa complex, the Explorers program with activities for all ages and interests, numerous boutique shops and a $25 million art collection. In addition to these offerings, the stylish 60-room Canyon Suites provides more intimate surroundings and enhanced services, creating an atmosphere of uncompromising splendor. Both The Phoenician and The Canyon Suites are owned and operated by Starwood Hotels & Resorts Worldwide, Inc., as part of The Luxury Collection.
For additional information please visit http://www.thephoenician.com.
About Republic National Distributing Company
Republic National Distributing Company (RNDC) is the second largest distributor of premium wine and spirits in the U.S., with operations in Arizona, Alabama, Colorado, District of Columbia, Florida, Kentucky, Louisiana, Maryland, Mississippi, North Carolina, North Dakota, Ohio, Oklahoma, South Carolina, South Dakota, Texas, Virginia, and West Virginia. RNDC employs over 4,000 individuals nationwide.
If you would like to learn more about Republic National Distributing Company and their successful approach to business, please visit their website at: http://www.rndc-usa.com
About CRUZ Tequila
CRUZ del Sol Tequila is the award-winning, flagship brand of Los Diablos International which is headquartered in Scottsdale Arizona. The recognized principals of the company have a combined 50 years of global business experience that is focused on redefining the premium tequila market. As part of their commitment to give back to their community, CRUZ was proud to be a part of the Emerging Business Program for the 2008 Arizona Super Bowl XLII host committee and sponsored by Salt River Project. Most recently, the company has been featured in BizAZ, Business Gazette, Jeunes Restaurateurs d'Europe, Phoenix Business Journal, The Republic newspapers, Scottsdale Magazine, State Press, and Wine & Spirits Daily along with other leading industry publications. In addition, CRUZ also takes an active role in contributing to quality non-profit organizations. Globally, the company proudly donates seven percent of its profits to various national and international charities and strongly supports sustainability by using only eco-friendly recycled materials in its product packaging.
To learn more about CRUZ Tequila, their national launch, and quest to redefine the premium tequila market with their innovative spirit, please visit their website at: http://www.cruztequila.com
CONTACT INFORMATION:
Todd Nelson, Vice President
CRUZ Tequila
V: 480.458.7487
Website: http://www.cruztequila.com
Kelly A. Isley, Partner
Corcoran Associates
Business Advisors & Public Relations
V: 480.814.7471
F: 480.998.9088
Website: http://www.corcoranassoc.biz
# # #