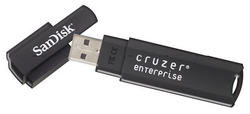 Milpitas, CA. (PRWEB) June 15, 2009
What/Who: SanDisk Corporation (NASDAQ:SNDK) today announced that Network Products Guide, an industry-leading publication on information technologies and solutions, has named the SanDisk® Cruzer® Enterprise with McAfee® Malware Protection a winner of the 2009 Product Innovation Award. This prestigious award recognizes vendors from all over the world whose innovative products bring essential changes to the information technology industry.
When: June 15, 2009
Details: SanDisk Cruzer Enterprise secure USB drives help businesses mitigate the risk of data loss by imposing mandatory, hardware-based encryption on all files along with password protection to safeguard data stored on company-issued drives. Cruzer Enterprise with McAfee Malware Protection extends these security defenses with automatic, device-resident malware scanning that prevents malware from attaching itself to the portable drive and in turn, infecting the internal enterprise host.
More information about the Network Products Guide Awards can be found at http://www.networkproductsguide.com/innovations/
About SanDisk:
SanDisk Corporation is the global leader in flash memory cards - from research, manufacturing and product design to consumer branding and retail distribution. SanDisk's product portfolio includes flash memory cards for mobile phones, digital cameras and camcorders; digital audio/video players; USB flash drives for consumers and the enterprise; embedded memory for mobile devices; and solid state drives for computers. SanDisk (http://www.sandisk.com/corporate) is a Silicon Valley-based S&P 500 company with more than half its sales outside of the United States.
SanDisk, the SanDisk logo and Cruzer are trademarks of SanDisk Corporation, registered in the U.S. and other countries. Other brand names mentioned herein are for identification purposes only and may be trademarks of their respective holder(s).
This media alert contains certain forward-looking statements, including applications and features that are based on our current expectations and involve numerous risks and uncertainties that may cause these forward-looking statements to be inaccurate. Risks that may cause these forward-looking statements to be inaccurate include among others: our products may not perform as expected, no security technology can be guaranteed to be 100% secure, and the other risks detailed from time-to-time in our Securities and Exchange Commission filings and reports, including, but not limited to, our most recent Annual Report filed on Form 10-K and our subsequent Quarterly Reports filed on Form 10-Q. We do not intend to update the information contained in this press release.
# # #