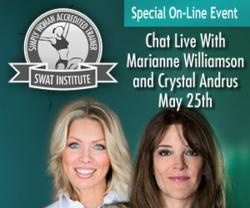 After reading Marianne's latest book, 'A Course in Weight Loss' I knew I had to have a conversation with Marianne and invite all my clients, students, and friends! We've opened this call up to everyone and anyone world-wide!
Greenbank, ON (PRWEB) May 19, 2011
Internationally-acclaimed spiritual teacher, New York Times best-selling author and peace activist Marianne Williamson will join Crystal Andrus – founder and CEO of The SWAT Institute, Women's health advocate and bestselling author Hay House, for a free 60 minute webinar on Wednesday, May 25, 2011 at 7pm ET / 4pm PT.
According to a Newsweek magazine poll, Marianne Williamson is titled as one of the fifty most influential baby boomers. Marianne and Crystal will guide the audience to change the way they look at their struggles forever. Struggles will vary from person to person; for some it may be weight issues, for others it is a complicated relationship, addictions, or even financial problems.
With this webinar, the attendees can look ahead to:

Reclaim their personal power, authenticity and magnificence
Discover how to achieve perfect health and weight
Make peace with themselves
Integrate the fragmented aspects of their personality
Discover who they really are
Crystal says, "As an International motivational speaker, life coach, and women's health advocate, I see first-hand, day-after-day, women who desperately struggle with their weight, body image and self esteem. If wanting was enough they'd all have the perfect health, wealth, and relationships. But wanting is not enough! After reading Marianne's latest book, 'A Course in Weight Loss' I knew she had written the magical formula to help us all surrender our struggles with not only weight but any self-limiting challenge. I knew I had to have a conversation with Marianne and invite all my clients, students, and friends! We've opened this call up to everyone and anyone world-wide!"
Marianne says, "When you discover who you really are and the divinity that supports you, you will never struggle again. On May 25th, I will help you find that strength and essence."
People who make this call live will also get a chance to win over $10,000 in prizes, including one lucky woman will also win free tuition to The SWAT Institute! (Valued at $5997.)
To learn more or to register for the webinar, please visit: http://www.swatinstitute.com/marianne_williamson
Anyone interested in media contact with Crystal Andrus or The SWAT Institute, please contact:
Aaron Morissette
Director of Operations
Crystal Andrus Productions
aaron(at)crystalandrus(dot)com
905-442-6818
# # #