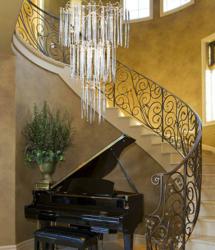 Quality, clarity, color, type of crystal, and finishing process are all important, and impact the way the chandelier will look, and light, once it's installed.
(PRWEB) July 30, 2012
HomeThangs.com – the Home Improvement Super Store has made their goal to deliver the right product to the consumer, with that in mind, shopping and home design tips, as well as special product selections are being introduced.
"Chandelier" has come to mean a lot of things over the years. As the needs of homeowners change, they've become smaller, more contemporary, and taken on a lot of different designs. But sometimes a chandelier should be classic – big, beautiful, draped with crystals and in true royal form. For a large, truly luxurious space, there are no substituting traditional crystal chandeliers for style or sophistication.
HomeThangs has introduced a selection of large luxurious crystal chandeliers for the most upscale spaces. Designers at HomeThangs highlighted several key factors to take into consideration when looking for the real piece of art versus a plain lighting fixture.
1. The simple sight of a chandelier is something that sits pretty deep in the psyche of the Western world. Traditional crystal chandeliers speak of royalty, decadence, and culture. Even now, large crystal chandeliers are primarily found in sophisticated spaces: opera houses, fine restaurants, or five star hotels. Adding a crystal chandelier such as Cascadia Chandelier by Elk Lighting brings all the associations of traditional crystal chandeliers along with it.
2. Large crystal chandeliers are perfect for multi-story entryways, grand staircases, or even a large drawing room or dining room with a high ceiling. Simply put, there aren't many other kinds of fixtures that can accommodate such a space. Crystal chandeliers not only hold their own, but can also provide diffuse, all-over lighting in difficult spaces, and can help balance out (or even dampen the echo in) an otherwise cavernous area. So even if one doesn't happen to have a private ballroom, a large chandelier such as Gold Maria Theresa Chandelier by Crstorama can still be a beautiful, luxurious addition to your home.
3. Choosing the right crystal chandelier is about more than just looks. The largest and most luxurious crystal chandeliers all have crystals, are typically made of cast brass, and have lots of branches tipped with small, candle-shaped lights. Everyone knows that much. But what makes the biggest difference between one and the other – something that's often impossible to see from pictures – is the type of crystal used. Quality, clarity, color, type of crystal, and finishing process are all important, and impact the way the chandelier will look, and light, once it's installed. For example, the Palmer Chandelier by Crystorama is an heirloom quality piece, made traditionally with only hand cut, hand polished crystals for a truly authentic antique piece.
The Yorkshire Chandelier by Crystorama is made with Swarovski Strass crystals, the finest, purest, clearest crystal in the world. What's the difference? The cut edges are sharper, the crystals have a higher optical clarity (which means more brilliant crystals and a better light refraction, thus better and more beautiful lighting). Plus, the crystals have a special coating that helps them repel dust, keeping the hard-to-reach chandelier cleaner longer.
Swarovski Spectra crystals, like those used on the Kensington Ornate Cast Brass Chandelier by Crystorama, are visually identical to Strass crystals, but lack the optical coating that makes them dust-resistant. This typically makes crystal chandeliers made with Spectra crystals slightly higher maintenance, and can account for a price difference in two well-cleaned, visually identical Swarovski crystal chandeliers in a show room.
4. Chandelier crystals are available in a variety of colors. While clear crystals are the most common, one can also find chandeliers made with anywhere from a hint of blue, gold, rosy red, or silver to deep gem tones of the same colors. Most common are chandeliers with teak crystals, such as Regis Wrought Iron Chandelier by Crystorama, which helps create a warm, golden light and enhances the gold tones of the hand painted brass chandelier itself. Others cast cooler or iridescent light, or are even slightly reflective, all of which can uniquely enhance the room's decor.
5. While most large crystal chandeliers are made of some kind of brass, not all are, and different materials in the body of the chandelier can make a huge difference in the overall appearance of the chandelier. Maria Theresa Chandelier from Crystorama for example, made almost entirely of blown glass with Strass crystal accents, this chandelier has an almost otherworldly quality, especially when it's all lit up. Glass chandeliers are much more delicate than masculine bronze or brass fixtures, and offer a totally unique and different look even with a fairly traditional form.
6. The most radiant chandeliers are made of even more precious metals, finished with a silver or gold leaf. Gold chandeliers, such as Veubronce from Elk Lighting are able to maintain a high degree of shine over time with minimal maintenance. While brass typically has a muted quality, the bright, polished glint of gold leaf won't fade or dull over time.
No two chandeliers are made completely equal, and not just in the obvious ways like size or number of tiers or lights. The material of the body and how it's made and finished, and the type, quality, and color of the crystal are all important.
HomeThangs.com is not only a home improvement superstore, it also provides expert design tips and a comprehensive shopping guide, taking the ideas from professional interior designers, and offering tips to the consumers on how to pick the products to best suit their needs.