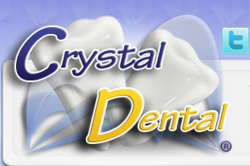 Huntington Beach, CA (PRWEB) August 12, 2012
The dentist is a person that nearly everyone hates going to, but they love the results they see when they are finished. This is especially the case with the kids dentist or seeing a cosmetic dentist, but with the experienced professionals at Crystal Dental Centers, dental work becomes less of a challenge and more of a fun and beautifying experience. They have partnered with LAD Solutions to help promote the new location and spread the word about their most recent expansion.
In an effort to keep patients smiling and showing off their pearly whites, Crystal Dental Centers offers an array of dental services. From pediatrics and cosmetic work to routine checkups and cavity fillings, the board certified dentists at all of the Crystal Dental Centers have the experience and sensitive touch to make your next dental visit an enjoyable experience.
At the new Crystal Dental Centers location in Huntington Beach, residents now have a closer and easier way to get the best dental work the region has to offer. With this new location, there is always a kids dentist on hand that specializes in pediatric work. These dentists can help teach you and your child about how to properly care for growing teeth, and why the nightly routine of brushing for two minutes and flossing is so important.
For adults who want to improve their smile, cosmetic dentistry is also done at this new location. From teeth whitening to veneers, Crystal Dental Centers provides adults who want to improve their smile and be proud to show their teeth a way to do so without requiring oral surgery. Through modern approaches, cosmetic dentistry is made easier and less painful, leaving patients smiling.
Crystal Dental Centers has three locations in the southern California area, including downtown Los Angeles, Santa Ana, and the most recently opened location in Huntington Beach. All three locations have board certified dentists and accept insurance from most providers. Comfort is of the utmost importance during any patient visit, and dentists are well trained to provide the care patients desire.
Crystal Dental Centers has taken to the web with the help of Los Angeles marketing firm LAD Solutions to inform Los Angeles residents of this new location. This gives patients who have previously driven from Huntington Beach to come to the well-known Crystal Dental Centers in the past a nearby location. Through online promotions, LAD Solutions will help establish a stronger presence in the Huntington Beach area by tapping into the power of the Internet to spread the word.
About Crystal Dental Centers: Serving the Los Angeles area, Crystal Dental Centers now has three locations that provide high quality dental care from certified dentists. With a focus on comfort, patients receive dental treatments, including pediatrics and cosmetic, that will leave them smiling as they walk out the door. For more information on any location, visit the Crystal Dental Centers website.