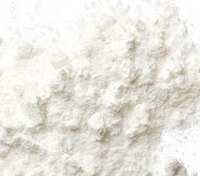 Verdan potassium alum is guaranteed to be all natural and free of synthetics.
(PRWEB) February 10, 2010
Verdan, the premier supplier of natural crystal deodorant products to the cosmetic industry, proudly announces the launch of natural potassium alum powder, the active ingredient of crystal deodorant body spray and liquid roll-on. The addition of potassium alum powder to the Verdan crystal deodorant product line expands the collection of 100% natural deodorants made from pure alum stone.
With the onset of increased demand for natural cosmetics and crystal deodorants, cosmetic manufacturers are drawing on new natural deodorant formulations to capture the natural consumer. The Verdan potassium alum powder is designed to be the natural active ingredient for odor prevention in body sprays, creams, powders and liquid roll-ons.
Verdan natural potassium alum powder successfully prevents odor from ever occurring, and allows the body to stay dry all day. By inhibiting bacteria growth in sweat and thereby eliminating odor, Verdan natural potassium alum powder is a truly effective active deodorizing ingredient, and is aluminum hydroxide free.
"We want to provide our customers with a natural alternative to synthetic potassium alum which is currently dominating the fine cosmetic market," said Verdan founder Francis Verdan. "Verdan potassium alum is guaranteed to be all natural and free of synthetics."
Verdan potassium alum powder is created by micronizing natural potassium alum stone into a fine powder. The micronization process begins by first selecting the finest grade potassium alum stones, followed by crushing the stones, and finished with a fine grounding process, resulting in a natural potassium alum powder, also known as crystal deodorant powder.
"In recent years, the crystal deodorant market has become increasingly saturated with artificial potassium alum and ammonium alum made from synthesizing aluminum hydroxide with sulfuric acid," said Verdan. "However, we are proud to be one of the few remaining suppliers of all natural potassium alum that has been extracted from the world's finest quarries, not chemically manufactured."
Verdan is the premier supplier, OEM and private label natural crystal deodorant. For more than 30 years, Verdan has been providing clients worldwide with exceptional service and the highest quality all-natural crystal deodorants made from 100% potassium alum stone. For more information please visit us at http://www.verdan.net.
###