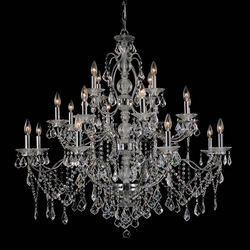 Customers love our tents equipped with grand crystal chandeliers. They transform the space.
Boise, ID (PRWEB) March 23, 2011
Premier Party Rentals, is a major supplier of temporary event space in Florida. They supply catering and event organization for projects of all sizes, but the most interesting challenge is to transform very large tents into elegant ballrooms. According to Dennis Birdsall of Premier, "Making a temporary structure magical is all about the details. We have found that an array of crystal chandeliers creates just the mood we want for events that need an elegant and sophisticated venue."
Anita Turner, the LightingShowroom.com project manager said "We have sold a lot of chandeliers over the years but this project is one of the most interesting. Imagine the challenge of transforming a large tent into a fully functioning event space, doing it quickly, and having the end result be visually stunning. Premier does an amazing job with their rental products. In this case they are using 18 Metropolitan crystal chandeliers that are each 43 inches high and 45 inches in diameter. The logistics are like a military operation with many truck loads of material. A large tent is erected and these 18 individually crated chandeliers are hauled in, hung and lit. The final product is a breath taking space complete with a dance floor, kitchen, dining areas, and bar all spectacularly lit by crystal chandeliers. It is a fascinating application of lighting, design, and formidable logistical skill."
Turner continued, "We handle a variety of art and decor lines in addition to lighting and we have supplied a variety of products to Premier in support of their rental operations, but this is the first large scale project designed to be the major visually transforming element for a major venue. We are confident that it will be well received by Premier's customers because of all the lighting types crystal has the capacity to be mesmerizing."
Wickowski said, "LightingShowroom.com is one of the top 5 online retailers of lighting products in the US and has been serving a growing domestic and international clientele of discriminating owners looking for a full service supplier. The Minka Group is one of our foundational suppliers which allows us to focus on meeting the customer's needs and supporting high end domestic and international projects with confidence."
Wickowski explained, "The foundation of our business is customer care. We offer good value in our pricing, but attention to detail, meeting the customer needs, and working hard to anticipate and prevent problems is really what we are about. Value is the combination of quality products, fair pricing, and best in class customer care. Those are the things we work on all the time." She commented that, "There have been large numbers of websites that have begun offering lighting products since the economic crisis hit us all. Many approach the market with the idea that all you have to do is have the lowest price. We have found that our focus on the entire customer experience brings us loyal repeat customers and great word of mouth support which allows us to remain one of the top lighting retailers despite greatly increased competition and a difficult economic situation."
###