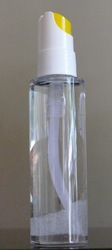 Verdan crystal deodorant spray, MineralProtect™, successfully provides 24 hour odor prevention without the need of any synthetic ingredients.
(PRWEB) February 22, 2010
Verdan, the premier supplier of natural crystal deodorant products to the cosmetic industry, announced that it received a patent on its crystal deodorant spray, MineralProtect™, which incorporates an advanced spray mechanism of highly saturated natural liquid crystal deodorant. Verdan applied for this patent in 2007, citing the spray bottle's design and ability to effectively extract and dispense the liquid crystal deodorant at targeted levels on the skin without the deodorant crystals obstructing and clogging the spray pump. The patent was published and granted in the U.S., Switzerland, France, Germany, Spain, Great Britain and Belgium.
"MineralProtect™ creates a more efficient crystal deodorant spray, effectively allowing for an increased concentration of liquid crystal deodorant that exceeds 12%," said Francis Verdan, founder of Verdan. "Our newly patented spray successfully provides 24 hour odor prevention without the need of any synthetic ingredients."
MineralProtect™ is proven by the Dermscan Group through clinical testing and awarded an efficacy certificate stating that it is significantly more efficient than other forms of Verdan crystal deodorant and provides 24 hour odor prevention. Dermscan Group is a leader in pre-clinical and clinical trials for the cosmetic industry.
"This new patent broadens and strengthens our crystal deodorant portfolio and firmly establishes our leadership in developing and supplying innovative and quality odor prevention solutions that are both natural and effective for consumers to use," said Verdan.
MineralProtect™ is a completely transparent solution that combines purified alpine fresh water and translucent natural deodorant crystals, and is complemented by an advanced spray mechanism. MineralProtect™ is a registered trademark in the U.S. and is available for private labeling in the original unscented formula, or with the addition of fragrances per the customers' request. Furthermore, customers have the option to market and sell the product as ECOCERT certified with the inclusion of 5-10% "Eau Florale."
The active ingredient in MineralProtect™, as well as the complete line of Verdan natural crystal deodorants, is crystal alum, which is also known as crystal deodorant stone, or by its mineral name, potassium alum. All Verdan products are made of 100% naturally occurring potassium alum, and are aluminum hydroxide free, opposed to synthetic crystal deodorants that are made by synthesizing aluminum hydroxide with sulfuric acid and adding ammonium sulfate.
Verdan is the premier supplier, OEM and private label natural crystal deodorant. For more than 30 years, Verdan has been providing clients worldwide with exceptional service and the highest quality all-natural crystal deodorants made from 100% potassium alum stone. For more information please visit us at http://www.verdan.net.
###