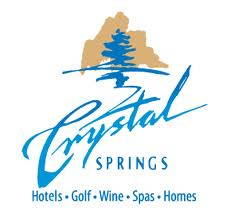 "We're hoping more and more parents will encourage their kids to take up the game and Minerals Golf Course offers an easy environment to accomplish this, without the pressures and restrictions found on some adult-oriented courses."
Hamburg, NJ (PRWEB) May 03, 2012
Golf needs a shot in the arm, and Crystal Springs Resort—the premier golf resort in the east—is happy to provide it. The resort, which features seven golf courses, is dedicated to leading the way in golf innovation, particularly finding ways to bring new and lapsed golfers into the game.
Heartily endorsing the principles behind Golf 2.0, a new initiative spearheaded by the PGA of America to grow the game, Crystal Springs—located in the mountains of northern New Jersey just 60 minutes from New York City—is offering packages and programs for golfing families as well as players of all ages and skill levels.
For families, Crystal Springs has turned its two nine-hole courses, the regulation-length Cascades and par-3 Minerals, over to junior golfers and their kin. During the week, rounds on the 2,305-yard Minerals Golf Course, which was designed by Robert Trent Jones, Sr., are only $15 per person all day long (slightly higher on weekends and holidays). On the 3,627-yard Cascades, afternoon rounds are as little as $79 for a twosome as long as there's a junior in the group (rates are valid for 9 or 18 holes). Family golf also includes:
-Special tees and larger cups for young players
-Four-seater carts
-TaylorMade clubs available for rent ($1 per child; $15 per adult)
-Roving golf staff to dispense advice and instruction to kids while they play
-Kid-friendly menu items, including peanut butter and jelly sandwiches on the dining cart
-Children's golf apparel in the pro shop
-Parent-Child tournaments ( http://www.crystalgolfresort.com/Golf/Events.aspx )
The resort's commitment to junior golfers comes naturally, says Art Walton, vice president of golf. "We're hoping more and more parents will encourage their kids to take up the game and Minerals Golf Course offers an easy environment to accomplish this, without the pressures and restrictions found on some adult-oriented courses."
For golfers with a need for speed, the resort's new "Fast Track Golf" program promises golfers will be able to play 18 holes in under four hours with no waiting on the group ahead and getting off the course before noon.
"Fast Track" is the result of talking to hundreds of Crystal Springs' golfers, who expressed overwhelming support for a quicker pace of play. On summer weekends, designated "Fast Track Golf" tee times will be in effect on the 18-hole Wild Turkey and Black Bear courses before 7:30 a.m., and on the 9-hole Cascades course before 10 a.m. "Fast Track Golf" is available both to daily-fee players and resort guests.
To keep things moving, golfers taking "Fast Track" tee times agree to:
-Maximum 7 strokes per hole
-Maximum 3 putts per hole
-Lost balls must be abandoned after a 60-second search
-No "honors"—play when ready
"We want our guests to have a great time here," says Art Walton, Vice President of Golf Operations, "even if that means we actually shorten their time playing golf."
For those not ready to make a big investment in golf, starting in May Crystal Springs is initiating a "Pay Per Hole" program at Cascades Golf Course, charging just $4 per hole played with rental clubs included.
And there's more, including…
-Free golf clinics from the David Leadbetter Golf Academy (Crystal Springs is Leadbetter's northeast headquarters), held on the newly renovated Leadbetter practice range
-Use of the resort's one-of-a-kind natural grass putting course. This massive, 18-hole putting green—home of the annual New Jersey Putting Championship—features multi-tiered greens, rolling terrain, rippling streams, and colorful landscaping. It's perfect for fun and games or serious practice with the flagstick
-Coming this summer, the new Skills and Obstacles Challenge
If you or any member of your family has ever wanted to give golf a try, there's no better place than Crystal Springs Resort, and no better time than right now.
About Crystal Springs Resort located in Vernon and Hardyston, New Jersey, is an upscale four-season leisure and residential resort, including Grand Cascades Lodge and sister property Minerals Hotel. Crystal Springs Resort combines luxury accommodations, natural mountain beauty, and a wide array of amenities including: seven renowned golf courses; four-star Restaurant Latour; Wine Spectator Grand Award-winning wine cellar; two full-service spas ranked in the top 30 spas in America; the state-of-the-art Minerals Sports Club; multiple indoor and outdoor pools, including the distinctive Biosphere Pool Complex with an underground aquarium, tropical foliage and free form nature pools; Mountain Creek with 167 skiable acres on four mountain peaks, 100% night skiing, the region's most extensive snowmaking system and overnight lodging at The Appalachian; plus a plethora of sophisticated venues for meetings, weddings and catered events. Resort attractions include Mountain Creek Waterpark and Bike Park, Zipline and Mountain Coaster.
# # #