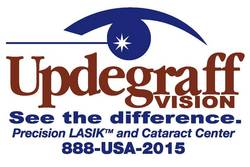 If you are planning to have cataract surgery, you should know about the Crystalens HD
Saint Petersburg, FL (Vocus) February 7, 2009
Dr. Stephen Updegraff, St. Petersburg and Tampa, FL offers his patients the Crystalens HD. The Crystalens HD is an accommodating intraocular lens that, unlike a standard Intraocular Lens ( IOL), can treat both a person's cataracts and presbyopia--loss of near and intermediate vision. Unlike the standard cataract replacement lenses, Crystalens not only eliminates the patient's cataract but can also give the patient a full range of vision so that the patient can potentially see near, far and everything in between. The Crystalens HD is an "advanced generation lens" meaning it is an enhanced version of the highly successful Crystalens design. Crystalens, which is a product of Bausch & Lomb, is the only FDA approved accommodating intraocular lens and the only intraocular lens that uses the natural focusing ability of the eye by using the eye muscle to flex and accommodate.
Most people start to notice in their forties the loss of some up-close vision and as a result had to start wearing reading glasses. Crystalens not only treats cataracts (a clouding or hardening of the eye's natural lens), but can also reduce or eliminate dependence on glasses. It does so by recreating accommodation similar to your eye's natural lens. The unique Crystalens can oftentimes reduce the need for glasses for most activities, including: reading a book, working on the computer, and driving a car.
A cataract is a clouding of the eye's natural lens resulting in distorted and fuzzy vision. Crystalens HD replaces the eye's natural lens with one that allows for improved vision near, far and in between and permanently removes the patient's cataract. "If you are planning to have cataract surgery, you should know about the Crystalens HD," Updegraff said. Dr. Updegraff has been performing cataract and lens implant surgery for more than a decade and was one of the first surgeons in the nation to use the first generation Crystalens starting in 2003.
Crystalens was modeled after the human eye. Like the natural lens, it uses the eye muscle to flex and accommodate in order to focus on objects in the environment at all distances. Crystalens dynamically adjusts to your visual needs. For additional information on the life changing, lifestyle lens, Crystalens, contact Updegraff Vision Precision LASIK™ and Cataract Center at 888-USA-2015 (888-872-2015) or request information through our contact form.
###