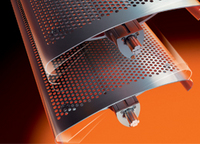 reduce solar heat gain and glare, lower energy consumption and maximize daylight in buildings
Lebanon, NJ (PRWEB) March 10, 2010
Solarmotion™ operable sun controls from solar shading experts, Construction Specialties, were introduced at the 2008 GreenBuild International Conference and Expo in Boston, MA. Since Solarmotion's introduction, C/S has continued to expand the options that designers have to raise the bar on building performance and aesthetics.
Solarmotion sunshades are designed to automatically move with the sun to reduce solar heat gain and glare, lower energy consumption and maximize daylight in buildings. The unique design of the system allows the architect extraordinary flexibility in blade options between mullions. Blade options include aluminum, cedar wood, perforated metal, glass, acrylic and many other materials.
Another way C/S is expanding the controllable shading options available to designers is with the recent alliance with German company Warema and the addition of fully retractable external Venetian blinds (EVBs). EVBs are the low profile way to eliminate unwanted heat gain and glare regardless of project location and climate. All Solarmotion systems are designed to create a dynamic façade that responds to the outside environment in order to reduce energy consumption and maximize occupant comfort.
Dual position light-control Venetian blinds are also available. Special, highly reflective slats located in the upper portion of the blind re-direct light thereby providing glare-free illumination deep into the building. The lower portion of the blind provides shading for the buildings occupants.
Adjustable shading systems are only as effective as their controls. The unique, cost effective Climatronic® sun shading control system provides a range of control options to suit all conditions. The Climatronic® system measures light levels, wind direction, precipitation, external temperatures and the potential for icing."Warema by C/S" offers shading solutions for both new construction and retrofit applications.
The USGBC's LEED 2009 rating system grants up to 19 points for optimization of energy performance and cites "automated movable shading devices" as an effective way to reduce energy consumption. A shading strategy utilizing C/S Solarmotion will result in a significant reduction in capital cost of plant and associated running costs for HVAC. For more information on all C/S Solarmotion products or to request a brochure, call (800)234-0010 or visit our website.
Construction Specialties, Inc. manufactures and sells specialty architectural products internationally, with 30 offices worldwide. Its products include interior wall protection, entrance flooring, expansion joint covers, louvers, grilles, sun controls, explosion vents, smoke vents, and cubicle track/curtains. The company serves architects and designers, building owners, facility managers, and contractors. Construction Specialties International, Inc. was founded in 1948 and is based in Lebanon, New Jersey.
###