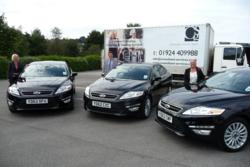 Having a significant number of our employees on the road is something we are conscious of, and we are dedicated to keeping our employees safe, as well as other roads users too..
Heckmondwike, West Yorkshire, UK (PRWEB UK) 10 September 2012
The Board of Directors at the contract cleaning and catering company based in Heckmondwike, West Yorkshire made a decision last year to implement a tracking system on company vehicles. This was made after the successful implementation of the tracking within the vending van fleet; which resulted in the reduction of accidents, increased efficiency and lower speeding offences.
With such promising results, CSG were keen to roll the tracking system out further across the company, an objective that would firmly establish themselves as being as committed to their corporate responsibility, as they are to their economic and environmental responsibility.
The new vehicles in the fleet are Ford Mondeo TDCi Econetic Zetec cars, all of which come with the latest technology fitted as standard, with touchscreen navigation and voice control Bluetooth connectivity. All of these features, with the tracking, will prove beneficial to employees, many of whom, cover significant distances on a weekly basis.
Alongside the tracking, CSG have also implemented an incentive which encourages employees to drive safely; The Speeding Policy Reward Scheme. The scheme was introduced in April 2011 and rewards drivers if they achieve a 'speeding free' month. For 3 consecutive 'speed free' months they receive £25 worth of vouchers of their choice; 6 consecutive months £50 worth of vouchers and 12 consecutive months £100 worth of vouchers.
One successful employee involved in the scheme is Area Supervisor; Jeremy Gair who has consistently driven safely and well within the recognised speed limits for a total of an impressive 13 months, keeping himself, his vehicle and other road users safe.
Speaking of the company's latest developments CSG Chief Executive, Simon Midgley, said "We have always been committed as a company to ensuring we fulfil our corporate responsibility, and I believe this is just one of the ways we can demonstrate this. Having a significant number of our employees on the road is something we are conscious of, and we are dedicated to keeping our employees safe, as well as other roads users too; as we continue to deliver our quality services in a safe, economically and environmentally sound manner."