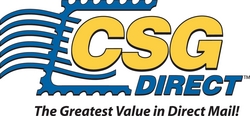 Alternative solutions that track interaction is where the revolution will be
Reno, NV (PRWEB) January 13, 2009
Michael Hemphill of mailing service CSG Direct, Inc. has invented a cutting edge direct mail tracking system that allows users to monitor mail sent through the U.S. Postal Service online, in real-time. Some of the system's more popular features are the interactive reports as each piece crosses the country. Using CSG's proprietary system, coupled with the USPS's new Intelligent Mail Barcodes, a business can finally track the progress of its mail campaign using its own customer ID or account number.
"This has been the dream in direct mail for decades and it's finally a reality," Hemphill said. "Mail can now be tracked just like more expensive alternatives like UPS and FedEx. This is a great option for companies that want an edge and know how to use advanced tools to their advantage. It's also great for the mail recipient as well".
This new system was originally built as an add-on to CSG's online campaign management system.
"It seemed like an obvious step to me," Hemphill said. "Once the new system was built it became obvious that they had created something much greater than first sought."
Additional tools and applications have been built around this new system to help roll it out across the country. The new product's uses seem endless. The technology will allow mailing service consumers to find lost mail and help customers to reduce postage costs while using the nation's mail stream. CSG Direct has already starting using these tools to track mail responses and customer interaction as well.
"Alternative solutions that track interaction is where the revolution will be," Hemphill said.
See more at http://www.TrackDirectMail.com
CSG Direct, Inc (http://www.csgdirect.com) is a mailing service founded by mailroom and database Guru Michael Hemphill in 1997 after working in, servicing and setting up mailrooms all over the West Coast and finally settling in to build their very own mail processing plant in Reno Nevada. CSG processes mail and direct mail for customers all over the United States including casinos, banks, Retail, non-profits and private businesses of all kinds.
For information or interviews, please contact:
Michael Hemphill, CSG Direct, Inc.
800-881-2150 | 775-852-9777
michael.hemphill(at)csgdirect.com
###