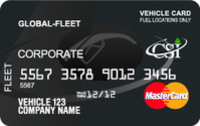 Both CSI and Isuzu are focused on identifying and implementing the most innovative cost savings features available.
Bonita Springs, FL (Vocus) June 17, 2010
CSI Fleet Fuel MasterCard®, the leader in cost savings features for fleet managers, announces its collaboration with Isuzu Commercial Truck of America, Inc. (Isuzu) to enhance the benefits for Isuzu Priority Maintenance Customers.
Isuzu's Priority Maintenance Program offers benefits that provide the lowest cost of ownership for their customers. CSI Fleet Fuel Card's wide array of savings features include unlimited universal fuel merchant acceptance, real-time online management, controlled spending, a large discount network, and a savings locator which utilizes the most current data available to provide price comparisons of gas and diesel fuel stations across the U.S.
"We are pleased to team up with Isuzu," said Keith J. Stone, CSI President/CEO. "Both CSI and Isuzu are focused on identifying and implementing the most innovative cost savings features available."
Shaun Skinner, Executive Vice President and General Manager for Isuzu states, "The Priority Service Maintenance Program has been very successful and is unique to the commercial truck industry. Now with the addition of the CSI Fleet Fuel Card our customers will have another tool to help reduce overall operating costs."
The Priority Service Maintenance Program fixes preventive maintenance costs with fixed parts and labor expenses for three to six years depending on term, mileage and utilization, as well as savings on additional services such as brake, tire, and substitute vehicle options.
CSI Fleet Fuel Card customers experience savings up to 15%. This may include immediate savings at the pump, additional savings that come from controlling spending, and establishing spending limits such as types of purchases, amounts, PIN and mileage prompts and even when purchases may be made. Fleet managers also monitor purchases and can adjust spending limits online in real-time.
To apply for and learn more about the CSI Fleet Fuel Card, visit http://www.csifleetfuelcard.com.
All product and company names herein may be trademarks of their respective owners.
About CSI Enterprises, Inc
CSI Enterprises, Inc. provides a specific line of controlled financial payment products including business fleet fueling/maintenance payment cards, a corporate virtual payment MasterCard® card and card solutions for corporate purchasing, travel and entertainment spending. Today CSI and its products operate in all fifty states including Canada, Mexico and Caribbean with operating subsidiaries involved in municipal tax reclamation, venture capital and real estate development activities nationwide. Since 1988, CSI Enterprises, Inc. was the first and largest U.S. organization to have a successful corporate asset management and payment network throughout the U.S. and Latin America. CSI MasterCard Corporate Fleet Card is issued by Regions® Bank, pursuant to a license from MasterCard International Incorporated. MasterCard is a registered trademark of MasterCard International Incorporated.
###