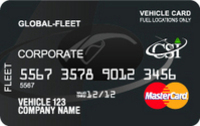 Fleet businesses can realize savings up to 15% on their fuel expenses just by using the card program
Bonita Springs, FL (Vocus) July 14, 2010
CSI Fleet Fuel Card, a leader in cost savings features for fleet businesses for more than twenty years, announces the new CSI Maintenance Management Program optimizing maintenance procedures and savings opportunities.
From small to large fleets, light to heavy-duty vehicles and specialty equipment, proper maintenance is recognized as one of the most critical costs associated with managing a fleet. By consolidating all fleet-related costs to the universally accepted CSI Fleet Fuel Card, drivers are never stranded without a means to pay. Each transaction is measured against pre-determined limits and controls set by the company. Emergency exceptions may be authorized online in real-time, and enhanced detailed data is collected for future reference.
"In today's economic environment, it is essential to continually refine business practices," explains Keith Stone, CSI President/CEO. "At CSI, we are constantly identifying new savings opportunities for fleet businesses and creating unique savings solutions that can be easily implemented. The CSI Maintenance Management Program is a great example of just that, offering savings in many ways."
By establishing comprehensive spending controls and creating detailed reports, fleet managers can determine how each dollar is spent. Second, by simplifying the maintenance process, fleet managers are much more likely to make maintenance routine, which directly saves money by providing better gas mileage and keeping vehicles on the road longer.
Third, CSI offers nationwide around-the-clock roadside assistance, allowing company drivers access to receive minor mechanical help such as towing, jumpstarts, lockouts, tire changes and fuel delivery, all without any out-of-pocket expenses to the driver.
Finally, the CSI Maintenance Management Program provides access to the CSI Maintenance Discount Network with thousands of participating merchant locations offering immediate discounts off invoice rates.
"Beyond the unparalleled savings the CSI Maintenance Management Program creates," added Stone, "it also provides the peace of mind every fleet manager needs. The program is comprehensive, from roadside assistance, to working directly with maintenance merchants, to the wealth of the detailed records provided."
The CSI Maintenance Management Program is available with the universally accepted CSI Fleet Fuel Card. "Fleet businesses can realize savings up to 15% on their fuel expenses just by using the card program," said Stone. "Continued savings will significantly grow for those who choose to implement additional maintenance solutions."
To apply for and learn more about the CSI Fleet Fuel Card and the CSI Maintenance Management Program, visit http://www.csifleetfuelcard.com and http://www.csi-fleetmaintenance.com.
About CSI Enterprises, Inc
CSI Enterprises, Inc. provides a specific line of controlled financial payment products including business fleet fueling/maintenance payment cards, a corporate virtual payment MasterCard® card and card solutions for corporate purchasing, travel and entertainment spending. Today CSI and its products operate in all fifty states including Canada, Mexico and Caribbean with operating subsidiaries involved in municipal tax reclamation, venture capital and real estate development activities nationwide. Since 1988, CSI Enterprises, Inc. was the first and largest U.S. organization to have a successful corporate asset management and payment network throughout the U.S. and Latin America. CSI MasterCard Corporate Fleet Card is issued by Regions® Bank, pursuant to a license by MasterCard International Incorporated. MasterCard is a registered trademark of MasterCard International Incorporated.
# # #